People Are Putting On Their Old Wedding Dresses And Throwing 'Mom Proms'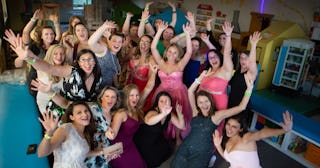 Amanda Noelle Photography
Recently, while lying in bed (possibly covered in Cheeto crumbs) and laughing ourselves silly at the movie Bridesmaids, my husband asked me an unexpected question. "How long has it been since you put on your wedding dress?"
"Not since our wedding day," I told him. For nineteen years, it's been in the same box that it was carefully folded into after I had it cleaned.
He propped himself up on an elbow and looked at me with a grin, eyes twinkling. "Put it on."
That's how I found myself, at 10:30 on a Saturday night, looking like this:
Putting on that dress for the second time was almost as magical as putting it on for the first. It made me want to take it for a spin around a dance floor, for old times' sake. Why should one of the most important outfits of my life — lovingly hand-stitched by my grandmother — be relegated to a musty old box?
I'm not the only one who feels this way about her wedding garb. Inspired by a Friends episode, writer Christine Burke decided to throw her own epic wedding dress party to breathe a little bit of new life into some old dresses. And people were inspired in a big way.
One of those people was Caroline Sakla. She thought the wedding dress party was a fantastic idea, but wanted to make it feel a little more inclusive. "Not every mom is married, and not every mom still fits in their wedding dress," she tells Scary Mommy.
So using the wedding dress party idea as a springboard, she decided on something a bit different: a Mom Prom.
She put the tentative event details out on Facebook, and was astonished at the response — more than 200 people were interested. Clearly this "fun little idea" had the potential to turn into something much bigger.
Sakla, who owns Little Explorers indoor play space in Palm Harbor, Florida, already had the perfect venue. And when she put the word out about the upcoming Mom Prom, she found that women were more than eager to volunteer their talents and expertise, from DJ services to floral arrangements, to help make Mom Prom special.
Indeed, it was a night to remember. Photographer Amanda Berrelez, of Amanda Noelle Photography, was one of the Mom Prom volunteers who captured the highlights of the evening.
Given the unexpectedly enthusiastic response, Sakla knew this was the perfect opportunity to do some good. So she turned Mom Prom into a charity event benefiting Foster Florida, an organization whose mission, according to its website, is "to empower families on the frontlines of foster care by mobilizing and equipping their communities to support them."
To help Mom Prom attendees know the importance of their contributions, and raise awareness for the cause, Sakla enlisted the help of Kelly Zarle, a devoted foster mom and the Chapter Advocate for Foster Florida: Pinellas County. Between serious bouts of getting down on the dance floor, Zarle delivered a short and inspirational speech about the cause behind the Mom Prom.
From the event ticket sales, donated raffle baskets, and Little Explorers' pledge to give $1 for every "like" and "share" on a Mom Prom Facebook post, Sakla managed to raise $1300 (and counting!) for Foster Florida.
But just as important as its charitable mission was the Mom Prom's effects on the women who came out to enjoy it.
"Every single mom walked into that place ready to party," laughs Sakla. Unlike the proms we were subjected to in high school, she says, this one was different: no one standing uncomfortably on the wall, no one judging dresses, no cattiness or competition. Just moms having fun, reveling in a rare night out, and lifting up other moms. Enjoying time with their friends, and making new ones, building connections that forge the all-important "village" that moms — and, in turn, the beneficiaries of Foster Florida — rely on.
All in all, it was an amazing night. What started as an inspiration from a Scary Mommy post turned into a beneficial event for everyone involved. And because of its success, Sakla plans to make it an annual event. "There's no reason why we shouldn't do this every year," she says.
For anyone thinking of hosting their own version of Mom Prom, Sakla has this advice: reach out. Personally invite as many people as you can. But even if there are only five people that show up, don't stress — it'll be a blast anyway. (For more information about starting a Mom Prom, or to find one near you, visit MomProm.org.)
Because as any parent can attest, sometimes all we need to fill our proverbial cups is a couple of hours away to, you know, not wipe anyone else's butt.
This article was originally published on