Mom Pulls Loaded Gun Over School Supply Dispute At Walmart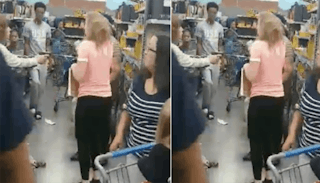 Image via Frank Macek / Twitter
School shopping at a Detroit Walmart took a terrifying turn when one mom pulled a gun on other shoppers
Back to school time is stressful for everyone involved: kids, parents, and the overworked people who staff the stores that sell school supplies. But guys, there's no reason to get crazy about it, like one mom did at a Michigan Walmart, where she (buckle up for this one) pulled a goddamn loaded gun on two other moms during a dispute over a notebook.
Yes. A notebook. It went down between two pairs of shoppers at a Walmart in Novi, Michigan, a small town near Detroit. Two women reportedly reached for the last notebook on the shelf at roughly the same time as one another, and then all hell broke loose.
According to Slate, they first argued with each other over who got to the notebook first. Then they started pushing and shoving. Then reports say two women, ages 32 and 46, started pulling the hair of a 20-year-old woman from the other group. And then one of the women, reportedly the 20-year-old's mother, casually bent down, reached into her purse that was on the floor at her feet, and pulled out a loaded gun. Video of the event shows Walmart workers scattering in terror as she points the gun at the other women involved in the scuffle.
"She pulled out her firearm and tells them to stop attacking her daughter while pointing the gun at them," Novi Police Detective Scott Baetens told Fox 2 Detroit. "It was a senseless act of violence all the way around."
Reports say that even though the gun was loaded, there was no bullet in the chamber, no shots were fired and no one was injured.
Where this story gets really crazy is that somehow, amid pulling a gun on other shoppers and the police being called, the mother-daughter pair managed to buy the notebook.
"I don't know how they ended up with it, but in the middle of the confrontation, they ended up with it and they purchased it," Baetens told New York Daily News.
Now, police are reviewing security camera footage and asking for witnesses to come forward to help them figure out how to proceed with the case. The mother who pulled the gun has a valid concealed pistol license, Baetens said, and police are trying to decide whether her actions constitute self defense. All four women are facing possible charges.
"A simple assault could be just a local ordinance, a 90-day misdemeanor," Baetens said. "All the way up to felonious assault with a firearm, which is a felony."
Now that we're past Labor Day, hopefully school shopping is over and we can put all this insanity to bed for another year. But just in case there are any last minute shoppers out there who still need to pick up some supplies, let's all get one thing straight: No notebook — or any school supply, for that matter — is worth this kind of senseless, terrifying violence.