When Hotel Insists There's Nowhere To Pump, Rock Star Mom Sets Up In Lobby
by Sarah Hosseini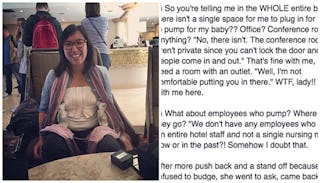 Mom pumps breast milk in hotel lobby, gets mad props from moms everywhere
The internet is going wild for a mom that is fighting for her right (nope, not to party) to PUMP. In public. Can we be her groupies?
Lynda Mazzalai Nguyen is getting fist pumps and "right ons" from mothers around the world for her viral post calling out a hotel that denied her reasonable accommodations to pump her breast milk. Essentially, the mom was forced to pump her breast milk in a hotel lobby. Nguyen was attending a seminar at an Embassy Suites hotel in San Francisco, and needed to pump. So she asked the front desk staff if there was a place she could pump. And yup, you guessed it, she was told to head to the shitter.
In her Facebook post the mom writes, "FUCK YOU! NO! I told them they don't eat lunch in the bathroom, so it's gross to expect me to contaminate baby's milk in there."
She asked to use an empty hotel room, and was allegedly met with more bullshit resistance and excuses. The hotel staff told her she couldn't use a hotel room because "she didn't pay for it." Ahem, never mind the fact that she paid for a seminar at that hotel (which call us crazy, that technically makes her a paying customer). When Nguyen brought this very obvious fact up to the staff, they pushed back more and allegedly told her, "There are no rooms available. We sold out this morning." Being the persistent pumper she is (and has a right to be), Nguyen then asked for an office, any office. The hotel staff said only the general manager had an office, and she wasn't allowed in there.
It's not like the woman was pumping cocaine or C-4 explosives out of her breasts while trying to make an X-rated porno in the hotel. She was pumping food, necessary food for her baby.
The staff eventually agreed to let her use the wine cellar. Awesome. Honestly, we wouldn't have blamed her if she marched right down there and promptly drank a nice aged and expensive bottle of red.
But, Nguyen did something much better. She plopped her ass down and pumped in a chair in the lobby. To drive her point home she snapped a pic of herself all hooked up to the pumps, with breast milk literally pooling into the bottles, all while sportin' a big 'ol smile on her face. Oh, yes mamas, revenge never looked so sweet. She also made a complaint with the general manager.
The GM at the hotel apologized to Nguyen. She attributes her negative experience to inadequately trained staff.
It's important to remember, a woman's right to breastfeed in public is protected in most states, according to the National Women's Law Center. However, there aren't many laws that guarantee a mom's right to reasonable accommodations to pump outside of their home, or designated workplace. Honestly, humans the fact that we need to have laws to protect these rights at all is bananas. It should be inherently understood. But, here we are. Nguyen's protest is just one step closer to exposing these absurdities and challenges mothers face. Hopefully the more we see these situations, the more society will push for protections that are apparently necessary.
Since her post went viral, Nguyen says she's received an outpouring of supportive messages from moms around the world.
She thanked them for their support in her Facebook post, and said, "Do NOT piss off a mama who knows her rights and is a social worker to boot."
Lastly Nguyen added, "Nurse/pump on!"
This article was originally published on