Why This Mom Ran Over 400 Miles For Immigrant Families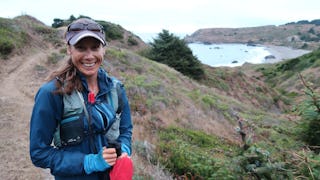 Lucia Robinson
Lucia Robinson, mom of two, just achieved a new self-supported fastest known time for running the Oregon Coast Trail this September. She ran over 400 miles in 13 days and 15 minutes. And, SHE'S A MOM OF TWO.
Because moms are badasses. Clearly.
"When I started the Oregon Coast Trail, I had no idea if I could finish it. On paper my chances didn't look too good: middle-aged mom (check), minimal ultra distance experience (check), missed the peak week of training due to work (check)."
But Lucia not only ran over 400 miles of the Oregon Coast Trail, she did this self-supported, which means that she carried all of her own gear and didn't accept any aid from friends or family — other than help taking care of kids and work obligations and cheering her on every day with texts and phone calls, of course.
I know what some of you are asking. Why, in the world, would she do this to herself?
"A lot of people have asked me why I did the run. First, my father was a well-known landscape photographer and we talked of traveling the world together to photograph famous trails. Sadly, he had a recurrence of prostate cancer in the '90s and was never well enough to undertake the project. He passed away in 2005. I've always been intrigued with the idea of a trek in his memory."
But Robinson didn't just do it for herself — or her late father. She also did it as a way to have a bigger impact on issues that are important to her.
"I wanted a material way to stand up for immigrant rights. I used the run to raise money for the Immigration Counseling & Advocacy Program (ICAP) in Yamhill County, Oregon. Immigration policy is impacting families across the country, not just at the border, though the border separations are absolutely atrocious. Many of ICAP's staff and volunteers are immigrants and refugees themselves. They provide legal and other community services throughout the immigration and naturalization process so that families can stay safe and together. My goal is to raise $10,000 for ICAP."
You can go here to check out how to help Lucia reach her goal.
Like most moms, Robinson kept putting her plans to run the trail off for a while because there was always something or someone to take care of.
"At first, I said, 'I'll do it when the kids are older,' but then I got to thinking that by then my knees would be older, too. Now seemed like as good (or bad) of a time as any. I think part of me also wanted to prove to myself that I could still do big, adventurous things all by myself."
But, of course, moms never stop being moms, even in the middle of trying to accomplish big things.
"About two days before I saw my six-year-old, I had talked to her on the phone. We were missing each other, and she was crying. It was heartbreaking. So I expected an emotional reunion with her when we saw each other. But as soon as she saw me, she said, 'Mom, can you hold my shells?' and dumped them in my hands and ran off."
"I don't think I could have trained for this when my kids were little; I was too exhausted then. If you have small children, know that finding time for yourself gets easier as they get older. You will poop alone again one day. It's awesome."
In case you're wondering what running the Oregon Coast Trail actually looks like, Robinson's final total mileage was 419.3 miles. That's right, she ran over 400 miles! With over 40,000 feet of elevation gain.
We're tired just thinking about it.
She tells Scary Mommy that she often trained in the early morning and/or at night when her kids were asleep, with a long run on the weekend. She also ran to and from work several days a week and ran alongside her youngest while she biked.
And of course, her dad was always with her.
"I thought a lot about my dad on the trail," she says. "Occasionally, I would see something that reminded me of him."
An accomplishment like this isn't possible without some real challenges along the way, but Robinson said there was only one real low point. "Near the end of the trip, I developed excruciating shin splints in my right leg. Every step was painful. One afternoon I had to cross this steep beach with the most soul-crushing, soft pebbly sand I have ever encountered. I would sink to my ankles with every step and forward progress felt glacial. I started to worry that my slow pace might prevent me from finishing the run all together. I finally sat on a driftwood log and called my husband in tears."
Sensing her desperation, Robinson's husband let her in on a little secret he had planned.
"He told me he was flying out with the girls to see me finish. They had wanted it to be a surprise, but he told me at just the right moment. In fact, they were packing for the airport right then. The news got me across that beach and kept me pushing to the end. Brady hiked the final miles with me. It was a special experience getting to catch up through the night and share the trail with him."
There were some scary moments along the way. Robinson says she ran Highway 101 at night a few times, which made her a little nervous, especially in remote areas. "Once a pickup truck pulled up next to me," she says. "I grabbed my mace and jumped over the guardrail, ready to bolt into the woods. It was just a couple stopping to ask if I was OK."
Robinson says running the trail helped her mental health, in addition to her physical health.
"Since finishing, I feel more confident," she said. "I was an anxious kid. I'm sure my parents never imagined that I would grow up to do something like this alone. We're all more than we seem, and we can all do more than we think."
Robinson says parenting is actually great training for ultra-running. "As a parent, getting from point A to point B is never as easy, fast, or trouble-free as you want it to be. There are so many times when you just want to lay down and take a nap, but you have to press on and do more things. By the time your kids are in elementary school, you've survived sleep deprivation, puke, epic meltdowns … Parents are tough!"
And as for the mom guilt? Well, turns out that completely unnecessary.
"I felt selfish leaving my kids. But everyone survived and now they're really proud of me. And I'm proud of me."
This article was originally published on