'Mom Rules' Is The Dua Lipa Parody That Every Mom Can Relate To
by Joelle Wisler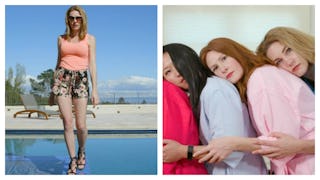 My Life Suckers
Deva Dalporto is the mom we go to when we need to laugh our asses off at how ridiculous this mom gig can be. Deva is the parody brilliance behind the viral video's, "I Just Need Some Space," and, "What Does The Kid Say," and her latest song "Mom Rules" is just what we need in the world right now.
"Mom Rules" parodies Dua Lipa's, New Rules, which has over 1 billion (!) views on YouTube. Deva tells Scary Mommy, "I love Dua Lipa and her song 'New Rules' was just begging to me a mom parody. Because moms have a lot of rules. Not that most of them are obeyed. At least not in my house!"
Mine either, Deva. Mine either.
Some of the Mom Rules include: Don't play with my phone, don't jump on the bed, don't fight with your siblings, don't use that tone, don't stay up past eight, and pretty much all of this is my life right now.
Kids don't really care all that much about our Mom Rules, but we keep trying, and failing, and that's what this parody is all about. You'll laugh and maybe cry just little. But you will for sure nod along, thinking, yes, my kid acts that annoying as well.
Don't miss out on watching the behind-the-scenes bloopers that will give you a glimpse on how much fun making these videos are for Deva and all of her family and friends.
Deva told Scary Mommy, "There were 27 people at my house the day of this shoot! It was total mayhem. But I'm so lucky to have my friends and family in on the fun. I love creating the videos and bringing the whole neighborhood in on them. This video featured my stepdad, my kids, my son's preschool teacher and some of my best friends and their kids." WOW.
Check out the parody video below:
And make sure you go over and subscribe to Deva's Youtube channel to see all of her hilarious creations.