This Is A Car Seat Photo No Parent Should Ever Have To Take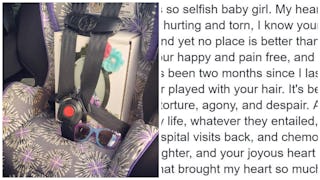 Mom's heartbreaking photo goes viral
Months after losing her infant daughter to cancer, a mom drove her daughter's ashes home and shared the heartbreaking photo on Facebook.
This is one photo no parent should ever have to take.
At just five months old, Ellie Walton was diagnosed with a brain tumor that was 1/3 the size of her head. Her mom shares the agonizing story of Ellie's short, tragic life – full of hospital visits, more than a dozen brain surgeries and 28 rounds of chemotherapy – on a Facebook page and website dedicated to her young daughter.
"Ellie was diagnosed at 4 months with a brain tumor, 17 surgeries, 28 rounds of chemo, and 42 days of radiation. She is Forever 4."
Two months ago, Ellie passed away. Earlier this week, her mom got to drive her home, one last time.
Ellie was cremated, and while her family awaits the custom urn designed especially for her, she was brought home in a temporary one, buckled safely into her car seat for the drive.
"We made you a custom urn, you would love it baby girl. Unfortunately temporary urns are just boxes, that wasn't good enough for you, so I decorated it, until your perfect urn comes in. Driving you home the other day, I was scared, but buckling you in felt normal."
Obviously, nothing about this is normal, and Ellie's mom goes on to say as much in her heartbreaking post, and the internet agrees. People torn up over the image in the post shared some words:
"I just looked at my kids and cried, i cannot imagine your pain. I could barely handle seeing my kids with a simple cold because i can't stand seeing them suffer because i suffer with them. My hugs and prayers to you and your family."
"I can't begin to imagine the amount of pain you are feeling. This photo is absolutely heartbreaking. I can't tell you it'll get better or she is in a better place because you learn to get through the day not that it gets better the only place she should be is in your arms. I pray your family can find a way to get through the pain you feel. Your family is in my prayers.
🙏
🙏
💗"
Ellie's short life was not easy, and in the aftermath of her passing, her family's life won't be either.
One can't imagine the grief and pain Ellie's family is experiencing, but this post shines light on an aspect of these tragedies that often gets overlooked. It seems impossible that life should go on after the loss of a child, but it does. The logistics of life, like transporting your daughter's ashes, are a cruel reminder that life will go on without something you loved so much in it.
It's clear that Ellie's mother is a strong woman. The courage it takes to share the story of her daughter's devastating illness and eventual death is hard to fathom, and in sharing this photo of the car seat routine that so many of us take for granted, her bravery continues to shine through.
There is little good to be taken from a tragedy like this, but it's clear that the photo and post have struck a nerve with parents and compassionate people everywhere. Hopefully it will bring attention to the shocking lack of funding that childhood cancer receives.
According to the Childhood Cancer Foundation, a mere 4% of funding goes towards childhood cancer research, which us just one of many details of this story that seem shockingly unfair. Something that Ellie's mom knows all too well.
"Life's not fair baby girl, you know that better than anyone. I do know that your life brought me so much joy, and looking back, I'm thankful that I made sure to tell you every single day just how much I loved you. I will forever be grateful to have been your mommy."
This article was originally published on