Mom Shares Photos To Prove 'Fit' May Look Different After Kids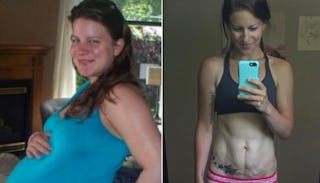 Mom uses Instagram to share inspiring post-baby fitness photos
The internet is full of celebrities and fitness personalities showing off their post-baby bodies, but how often do you get to watch a regular person show what it's really like to get fit again after having a baby? Marissa Fearon is a 27-year-old mom of three who's chronicling her fitness journey on an Instagram account called Babies And Pushups, and people are loving her raw photos that show off both new muscles and post-baby stretch marks.
The Ontario mom started her popular Instagram in October 2015 to keep track of her progress using Australian fitness guru Kayla Itsines' popular Bikini Body Guides (BBG). Since then, she's posted dozens of photos charting her progress, and gained almost 10,000 followers.
Like most moms trying to get in shape, Fearon focuses on eating healthy food and exercising regularly. But what's really drawn so many people to her account is the pride she takes in showing off her "real" body — muscles, stretch marks, sagging skin, and all.
Fearon tells the Daily Mail she didn't always feel so comfortable sharing untouched photos of her post-baby body, but she committed to it because she wanted to "reach out to others moms" like her, and give her kids a positive role model. In her first post, she wrote, "I want to show them [my kids] that you can do anything you set your mind to. I can't teach them to be confident and comfortable in their own skin if I'm not."
Thirty-four weeks later, Fearon says working out has given her more confidence in her body than she ever thought possible. "I definitely felt pressure to 'bounce back as I think all moms do — because of celebrities and social media," she told the Daily Mail. "Confidence has definitely come from working out and living a healthy lifestyle. It's made me able to embrace my body so much more."
Staying in shape as a mom is so hard, and its easy to get discouraged when you look around at all these perfect fit bodies and think, "Holy shit, I am never going to look like that." What's so inspiring about Fearon is that she's not trying to be some Photoshopped fitness model or tell other moms how they should look. She's simply taking care of herself and striving towards her personal best, and she's proof that moms can still be fit and strong and inspiring while embracing the inevitable body changes that come with having kids.
"Learning to love and appreciate our bodies for what they are now is the bravest thing a mama can do and every day I feel braver and stronger than ever," she told the Daily Mail."I am proud of this stomach, even if it is less than perfect. Perfect is boring anyway."
You go, Girl.
This article was originally published on