Mom Shares Cost of Son's Surgery To Highlight Potential Price of Trumpcare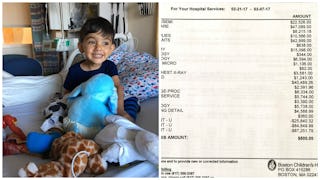 Image via Twitter
A hospital bill showcases just how essential good health insurance is
Healthcare is expensive, even when you're healthy. When you're not? You'd better hope you have good insurance. And if Trumpcare passes, you'd better hope you get better quick.
Based on one woman's example, you can't afford to be sick in Trump's America.
The mother of a boy with a complicated healthcare history shared an image of one of his hospital bills, and if not for the last few lines that show what her existing insurance covers, she probably would have had to add heart attack treatment for herself to the list.
Ali Chandra's Twitter bio describes her son as "medically complex" with "heterotaxy." And in a series of tweets following the image of the bill, she lays out some of the challenges with his care.
First, she does some math for us.
Then she details her son's history.
And then she gets into exactly what the new AHCA bill could do, what with the proposal to bring back lifetime caps on insurance.
An article in Think Progress discusses the ramifications of those lifetime limits being reinstated. Under Obamacare, such limits were not allowed on "essential" benefits, but the new bill allows for a redefinition of what is "essential."
"If they're suddenly redefined in a way that isn't comprehensive anymore, then any benefits left out or any changes made would affect the protections of annual lifetime limits," said Sarah Lueck, senior policy analyst on issues of health care reform for the Center for Budget and Policy Priorities.
Ali runs both a blog and a Facebook page that chronicle her son's illness, and her story is a stark reminder of what's at stake with the new healthcare bill.
The images of her adorable, embattled son she shared in her tweet thread make his situation even more poignant.
Ali, a registered nurse, has plenty of experience with the challenges, costs, and bureaucracy of the healthcare system, both as a practitioner and a patient. She knows full well how devastating the proposed changes to our existing laws will be to families like hers, and others with pre-existing conditions and limited means (limited in this case being anyone who doesn't make at least $200,000 a year).
Scary Mommy caught up with Ali and chatted about the response she's received since sharing her son's story. "I'm honestly just overwhelmed by the outpouring of love and support for our brave boy. Heterotaxy is a rare syndrome, and it's easy to feel alone along this journey, so seeing so many people rallying around us is incredibly encouraging."
Ali closed her Twitter thread with a message for those who would so strongly defend this bill despite how blatantly it contradicts their supposed beliefs.
This article was originally published on