This Is What A Mother's Love Looks Like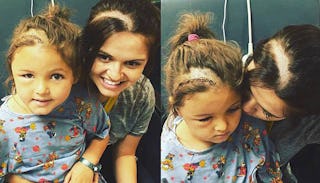 Image via Facebook.
"That smile of hers is worth every single hair on my head."
Is there anything a mother wouldn't do for her children? If there were something you could do to make your child feel less alone after a traumatic experience, wouldn't you jump at the chance? What if that meant shaving your head?
Faith May Beckstead showed incredible strength when she went under the knife on July 22 to remove a tumor that was pushing on her optic nerve and destroying her pituitary gland. The "master gland" controls growth and development so it was imperative the little girl have the tumor taken out as soon as possible. "It has definitely been quite the roller coaster ride," mom Jamie Dawn Beckstead, 30, told Babble. "That smile of hers is worth every single hair on my head."
To operate doctors had to shave a line in Faith's brown hair. It starts at the front of her scalp and reaches back behind her right ear. Brain surgery and cancer are terrifying struggles to face when you're an adult — imagine a child having to go through this. Not wanting her daughter to feel alone or different, mom shaved the same pattern on her head. "Me shaving my head to match hers seemed like the smallest thing that I could actually do for her because I am so helpless with everything else she is going through," she explained.
When a child is in the hospital for an extended period parents usually take shifts so one can always be nearby. When the Utah mom came back from her shift at home, she said Faith's reaction to her new haircut was well worth the sacrifice. "She smiled so big, and it seemed as though she immediately felt a little better about it," Beckstead explained. And since the pair are both sporting the unique look the little girl is less shy about it.
"I love that when I tried to show her that we can part her hair over it and no one would really be able to see it, she now has a new confidence and pride about it and doesn't want to cover it," mom shared. "[It] makes me so happy." Faith has tons of new friends with similar scars too. The Love What Matters Facebook page shared photos of mom and daughter and since then people have commented with photos of their brain surgery scars and shared stories of overcoming illness.
The little girl's aunt was so inspired by the outpouring of support that she started a GoFundMe drive for Faith's many medical bills. "I just want to take the quick moment that I have to thank you all for your kind gestures, words of encouragement, gifts, donations, and most of all your continued prayers for my baby Faith and my family," dad Austin Beckstead wrote on the fundraising page. He added that the family is "humbled by all the love we continue to receive."
This article was originally published on