Mom Reflects On Her Children's '18th Summer' And It Will Break You
by Cassandra Stone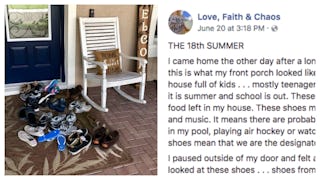 Image via Facebook/Love, Faith, & Chaos
Here's what it's like when you're on your 18th summer with your college-bound kids
It seems like the second our children are born, we're constantly being reminded of how fast they grow up. Though our kids are still our kids no matter how old they are, they don't stay with us forever. One mom shares an emotional reflection on what it's like being on your kids' 18th summer — and oh, how very bittersweet it is.
Blogger and mom Heather Duckworth of Love, Faith, & Chaos might be the only mom out there who doesn't mind a front porch full of teenagers' shoes. And for good reasons — to her, it means her house is "full of kids."
"These shoes are a sure sign that it is summer and school is out," she writes. "These shoes mean there is probably no food left in my house. These shoes mean noise and chaos and laughter and music. It means there are probably kids lounging on my sofa, floating in my pool, playing air hockey or watching a movie somewhere. These shoes mean that we are the designated hang-out house today."
And that's perfectly fine with her. Because she's known and loved her children's friends as much as her own kids, and watching them all grow up together is a special thing. Now that they've all just graduated from high school, she knows those shoes are going to go from her porch to various colleges this fall.
"They say you only have 18 summers with your kids," she says. "I am on number 18 with mine. This realization tugs at my heart and makes me wonder how 18 summers went by so quickly."
It's no wonder the sight of those shoes is tugging at her heartstrings. It's a physical reminder of how fast it all goes — from baseball cleats to prom shoes. It's a tangible realization that parenthood is, if nothing else, incredibly bittersweet. "This transition from having them home to watching them leave. My head knows this is a good thing, but my heart . . . it just hurts."
She shares that having all those shoes piled up on her porch during this "last summer" means her kids are home — she knows where they are, who they're with, and, most importantly, that they're all safe. And while "the 18th summer" doesn't necessarily mean her children won't be home during the summer months ever again, it could. And once your children have ventured off to experience college or wherever their path leads them, it's very different when they come home again.
Duckworth tells Scary Mommy she's loving that her post has resonated with so many other mothers. "I have loved the comments," she says. "They have all been so encouraging and kind. So many have shared their own stories of shoes on the porch and how much they miss those days. Motherhood is a hard job – but we are all in it together!"
Duckworth says it's hard feeling sad about her children growing up while trying to be present and in the moment with them while they're home. So during this 18th summer, she's going to "embrace these shoes" and feel thankful for their presence on her porch.
"I will welcome these kids into my home and let them crash on my couches," she says. "I will soak up the sounds of their laughter and I will make them clean up all of their messes. I will pray that everyone drives home safely and I will love having a full house. But most of all, I will do my best to choose happiness and joy for this moment right now and not let that dark cloud of sadness swallow me up. Because this moment right now . . . it is really good."
This article was originally published on