Reese Died After Swallowing A Button Battery: Here's What Her Mom Wants You To Know
by Elaine Roth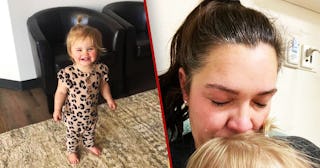 Reese's Purpose/Facebook
A button battery changed everything. A shiny battery the size of a dime invited tragedy into a home full of love. It took the life of 17-month-old Reese Elizabeth Hamsmith, known as ReRe to those closest to her. It put one mom on a mission to ensure no family ever has to suffer the way hers has.
A Misdiagnosis And A Missing Battery
In late October, Reese started wheezing. Her appetite disappeared. Her parents took her to the pediatrician, who diagnosed her with croup. They didn't know then that button battery ingestion is often misdiagnosed as croup.
The next day, Trista Hamsmith, Reese's mother, noticed a missing button battery. As soon as she realized it was missing, they went to the emergency room. "We just needed to make sure it wasn't there," Trista told Scary Mommy in a phone interview. "Unfortunately, it was."
An X-ray confirmed the battery and Reese immediately had emergency surgery to remove it.
A few days later, Reese was discharged from the hospital. She was put on a liquid diet and told to come back in four to six weeks. "I remember going to the store to buy anything and everything liquid. She was a good eater and loved to eat. We were concerned how that would look and we'd eat in different area of home so she didn't see us eating," Trista recalled.
Reese's liquid diet turned out to be the least of the family's worries. Within days, Trista returned to the emergency room with Reese on the advice of the surgeon, who was worried that the battery had created a hole. Another CT scan confirmed the presence of a fistula.
"There was a hole burned through her trachea and through her esophagus. When that tunnel formed, it was allowing air to go where it didn't need to be. Food and drinks also went where they didn't need to go," Trista told TODAY Parents in a separate interview.
Finding the fistula was only the beginning. What followed was more surgeries, a transfer to a bigger hospital in Houston, a team of doctors, and a successful surgery. Unfortunately, it wasn't enough.
Reese's condition continued to decline. She coded. The doctors tried to save her, but they couldn't get her back. She died on December 17, 2020.
Trista's memories become blurry then, except for a single moment. "I remember holding her. I hadn't gotten to hold her."
Button Battery Ingestions Are Common But Awareness Is Lacking
Button batteries are small, round batteries that are found in a number of common household items, including remote controls, games, bathroom scales, and musical greeting cards.
According to Trista, approximately 3,200 button battery ingestions are reported each year, but she believes that number is much higher. "Only 11 percent [of ingestions] are reported, which means it's probably closer to 30,000 per year."
Button battery ingestions are also hard to diagnose. Healthychildren.org notes that children can show no symptoms after ingesting a button battery. Often if they do show symptoms, those symptoms look like those of other infections—as was the case with Reese's original croup misdiagnosis.
Though hard to diagnose, they are dangerous. It takes only two hours for the button battery to cause severe tissue burns, which could result in lifelong disabilities or death. Trista urges all parents to immediately head to the emergency room if there's even a chance of button battery ingestion.
Turning Tragedy Into Purpose
Trista knew "pretty early" that she was meant to speak out and advocate for children's safety. Along with a fierce group of women she affectionately calls "Reese's warriors," Trista has started a nonprofit called Reese's Purpose. The organization's aim is to raise awareness among medical professions and parents, to financially help families that are in the trenches of button battery ingestion, and, most importantly, to change legislation to ensure no family has to lose a child to button battery ingestion again. Among the changes Reese's Purpose is seeking is secure closures that would require the use of a secondary device to access the battery compartment.
"I think about what Reese would have wanted. And that's what drives me," she said.
Recently, June 12 was designated "Button Battery Awareness Day." On that day (but really every day) everyone is encouraged to do a "Button Battery Search and Clean Out" to check their homes, to know where the batteries are and to keep them out of reach and out of sight of children.
That's just the beginning of what parents can do. Trista also urges parents to support the legislation. "When the day comes if this does go to Congress, call your local reps and ask them to support the bill. It could save your kids, your grandkids… That support will be crucial."
A Spitfire From The Get-Go
According to Trista, "Reese was a spitfire from the get-go. We couldn't wait to see what she'd do in this world because we had no doubt it would be something huge."
There is no doubt that Reese's death is a tragedy beyond words. It's a tragedy that happens in a split-second and could happen to anyone. Even those who think "that could never happen to me." It takes only a moment and a battery the size of a coin.