Mom's Passionate Plea About Standardized Testing Goes Viral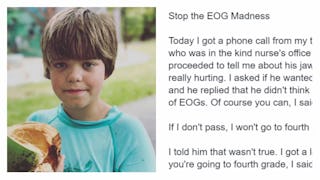 Image via Tales of an Educated Debutante/Facebook
North Carolina mom writes about her frustration with end-of-grade testing
Long gone are the days when field trips, longer lesson plans, and free study periods dominated the school calendar. Now tests, tests, and more tests have taken over public school days. The result? Stress on students, stress on teachers, and stress on parents. That's why one mom is rightly begging us all to do something about it.
Mom, writer, and former school teacher Adrian H. Wood runs the blog Tales of an Educated Debutante and she has some strong and smart words for parents feeling frustrated with the current public school culture of testing.
Her viral Facebook post starts off with this poignant line: "Stop the EOG madness."
"Today I got a phone call from my third-grade son who was in the kind nurse's office and crying," she writes. "He proceeded to tell me about his jaw and how it was really hurting."
"I asked if he wanted to come home and he replied that he didn't think he could because of EOGs," Wood writes. "'Of course you can,' I said, 'it's just a test.'"
Then the boy told his mom, "If I don't pass, I won't go to fourth grade."
Essentially the boy is afraid to leave school when he's not feeling well because of tests. Let the magnitude and the absurdity of that sink in. A child is worried about being unwell for tests.
The mom assured her son he was going to fourth grade. Then she begs the question that we're all thinking: "How did it come to this?"
She's exactly right, how in the hell did we get here? How did our public school culture get to the point where our kids are educated out of creativity and learn solely to test? How did it get to the point where our kids are severely stressed about these tests?
Wood proceeds to recount the things she's had to do to reassure her son that he will indeed pass his grade and move up, like talking to his teacher and the principal. Additionally, she's been very vocal about her experience (and undoubtedly the experience of many other frustrated parents and kids) and says she's met with the superintendent, reached out to the governor of her state, wrote her senators, and representatives.
"I can't find one person that praises them or offers valuable benefits," Wood writes. "I hear about showing growth, but who gives a shit? Schools at the top don't grow, there's no where to go."
"Tell me how EOGs and the pressure they bring benefit my family," she says.
"What message are we sending to our children? How will they remember the days of elementary school? Will they remember the awesome teachers that nurtured them or will they only remember those tests? Tests that had little to do with amazing schools."
There's something profoundly wrong with this situation and the truth is, her story isn't unique. The numbers paint a pretty stark picture when it comes to testing our kids. Students take an average of 112 tests between pre-K through high school, not including "optional tests, diagnostic tests for students with disabilities or English learners, school-developed or required tests, or teacher designed or developed tests," according to a 2015 report released by the Council of Great City Schools. Additionally, the survey found the average student takes about eight standardized tests per year. It's basically test layered upon test and we haven't even discussed the prep that these schools do to get the students ready. It is indeed madness.
So what can we do about it? It starts with speaking up, as Woods' powerful plea reminds us. "Please share your thoughts and your experiences with anyone who is willing to listen and especially with those who don't want to listen. Use your voice to speak for our children and our teachers," she writes.
"Fifty years ago, a group of people lobbied for children of color to be integrated into the school system. Ten years later, a group of people fought for children with disabilities to have a right to public school access," she writes. "Today, I ask you stand up and come forward and say no to EOGs."
This article was originally published on