Mom Sues Etsy To Bring Attention To Hazards Of Amber Teething Necklaces
by Cassandra Stone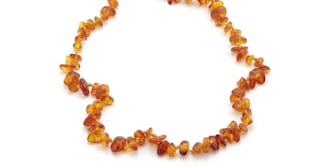 Mehmet Gökhan Bayhan/Getty
One grieving mother hopes to spread awareness about the danger of amber teething necklaces
After her son died from strangulation, one mother is seeking a wrongful death lawsuit against popular online retailer Etsy. She hopes to force the company to take responsibility for the 2.1 million sellers on the site who sell amber teething necklaces for infants and toddlers.
Danielle Morin's 18-month-old son, Deacon, was slowly strangled to death while he napped at his daycare center back in 2016. He was wearing a teething necklace at the time — one she had received as a baby shower present. At some point, the teething necklace snagged on something and tightened around the boy's neck, rendering him unconscious, according to the Fontana Police Department. He was taken to the hospital, where he died five days later.
"He was the sweetest little boy," she tells ABC News. I was a single mom so we were very close. We had a very special relationship."
The wrongful death suit was filed by Morin in San Bernardino County Superior Court in California. "This dangerous product from Lithuania would never be here in California, or the United States, except for Etsy," says Morin's attorney, John Carpenter, in relation to the amber teething necklaces.
The FDA recently put out a report against these types of teething necklaces. While they are certainly trendy, they're also a total sham — and dangerous. "The FDA has received reports of death and serious injuries to infants and children, including strangulation and choking, caused by teething jewelry, such as amber teething necklaces," the statement reads. "Given the breadth of the market for these teething necklaces and jewelry, we're sharing this important safety information directly to consumers in order to help prevent injuries in infants and kids."
The American Academy of Pediatrics recommends alternative ways for treating teething pain, such as rubbing inflamed gums with a clean finger or using a teething ring made of firm rubber. The risks, as Morin has unfortunately had to endure firsthand, are huge: strangulation, choking, injury to the mouth, and infection.
The FDA says choking can occur if the necklace or bracelet breaks and a bead enters the child's throat or airway. The strangulation risk is also very real as the necklace can not only twist and become too tightly wrapped around the neck, it can also catch on other objects including parts of the baby's crib.
Etsy's lawyers requested that Morin's lawsuit be thrown out of court. "Etsy cannot and does not make any warranties about their quality, safety or even their legality," the Etsy user agreement reads. "Any legal claim related to an item you purchase must be brought directly against the sellers of the item. You release Etsy from any claims related to items sold through our Services."
The lawsuit has been allowed to proceed because the Baltic amber teething necklace that Deacon was wearing at the time of his death was a gift. Since the loss of her son, Morin regularly purchases teething necklaces from baby supply stores — but these ones have a breakaway safety clasp. She then hands the safety necklaces out to parents when she sees their children wearing amber teething necklaces.
"I've probably had a handful now that I've switched out," she said. "And when talking to them about where they were purchased, Etsy seems to be a big name that they're throwing out," Morin said. She says knows a lot of people might place the blame on her for her son's death, which is possibly the cruelest thing you can do to an innocent, grieving mother.
"Well, it said that it was a baby necklace and I assumed that it was safe. I would have never knowingly put a dangerous product in the hands of my child."
This article was originally published on