Mom Of Teacher Who Died From COVID-19 Contracts Virus And Dies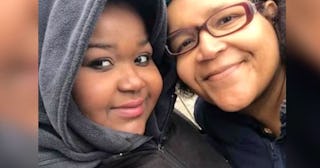 KSDK News/Youtube
After a 28-year-old school teacher died from COVID-19, her 57-year-old mother dies from complications due to the virus
For the people out there who still don't believe that the coronavirus is real or serious or deadly, a 28-year-old teacher and her 57-year-old mother from South Carolina both contracted COVID-19 and died within weeks of each other. Those deaths didn't have to happen.
Earlier this month, we reported on 28-year-old Demetria "Demi" Bannister's death. The third-grade teacher was gearing up to teach remotely at Richland's Windsor Elementary School in Columbia, SC when she suddenly passed on September 7, 2020, just three days after testing positive for COVID-19. KSDK News says it's unclear how she contracted the virus, but AP News reports that she had just spent a week at the school for in-person teacher prep.
Then, as if the preventable COVID-19 death of a 28-year-old wasn't bad enough, her 57-year-old mother Shirley Bannister died on Sunday, September 27, 2020, from complications due to COVID-19. Shirley's brother Dennis Bell told CNN that his sister "got really sick about two, three days after her daughter died" on September 7.
A friend of Shirley's told KSDK News that she struggled to even get a COVID-19 test and Bell told CNN that his sister had a history of both asthma and diabetes and despite this, she could not get admitted to the hospital until it was too late. "She actually went to the hospital twice, the second time they decided to keep her," Bell added.
Shirley was the chair of the nursing department at Midlands Technical College in Columbia, and Bell adds that Shirley and her daughter — her only child — were BFFs. "They'd go to dinner together, they'd go to the movies, go to concerts and things like that, and they planned events together," said Bell. "Demetria, in a sense, was just like her mother."
Shirley's friend told KSDK News that she thinks Shirley "would want for no-one else to go through what she went through."
"My heart is broken. Shirley was like an angel on Earth," Dr. Donald L. Rhames, president of Midlands Technical College, where Shirley worked, told WLTX. "Her life mission was caring for others. She earned her nursing degree from Midlands Technical College as a teen, went on to earn a master's degree. Shirley eventually returned to MTC to teach nursing and impact the lives of hundreds of future healers in our community as chair of the MTC Nursing Department. While her death is devastating, her impact is everlasting."
Shirley is survived by her husband, Dennis Bannister, who lost his wife and his only child in a span of a few weeks.
This article was originally published on