Apple Employee's Random Act Of Kindness Goes Viral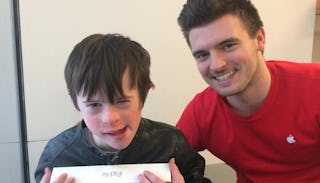 This post about an Apple store employee who went out of his way to help a kid with special needs is going viral.
There's a lot of bad news out there, but every once in a while you see a story that makes you want to cry happy tears. This is one of those: a Tennessee mom penned a viral post thanking a kind Apple store employee who went above and beyond to help her buy an iPad for her son with special needs.
LynnMarie Rink's son, James, was born with Down syndrome and diagnosed with autism at age six. According to Rink, James got his first iPad when he was three years old, and it quickly became a major learning tool and means of communication for him. Six years later, that first iPad was looking pretty beat up, and the Fiona Rose Murphey Foundation Charitable Trust graciously offered to provide James with a new one.
In a post on Facebook, Rink writes that she took James to her local Apple store to buy his new iPad late last week, and things didn't exactly go as planned. James tried to run out of the store to look at something, but instead ran straight into a plate glass window. "The entire store gasped as they heard the sound of James' head hitting the glass and then the floor," Rink recalls. She went over to comfort her son, and that's when an employee came over and asked if there was any way he could help. Writes Rink:
"I said, 'Well, we actually came here today to buy an iPad which was donated to James, but if we're going to proceed would you be willing to sell it to us and set it up… down here on the floor?'
And so he did. Your awesome employee sat with James on the floor of the store and set up the new iPad. There are no words to accurately describe how grateful I am that he took the time to 'meet us right where we were.' He didn't have to sit down on the floor with us… But he hung out with us in the midst of our pain. He even got a fist bump from James, and I snapped this photo."
Rink adds that "in the emotion of the day" she forgot the employee's name, but he's since been identified as Andrew Wall. Rink's post has been shared almost 10,000 times from her page and, according to 9News, it's even gotten the attention of Ellen Degeneres Show publicist Erin Kyle, who says she's passing it along to a producer for consideration as a part of Ellen's "Be Kind to One Another" segment.
Of course, the most moving thing about this story is the kindness Wall showed to James and his mom when he had no way of knowing it'd get him any attention at all. He was just being helpful and compassionate, and in doing so he was able to take a shopping experience that started out negatively and turn it into something special that's moved thousands of people. It just goes to show that the smallest acts of kindness can have huge impacts. Kudos to people like Andrew Wall who practice these small acts every single day.
This article was originally published on