Mom Writes Heartfelt Thank You To Daughter's 'Bonus Mom'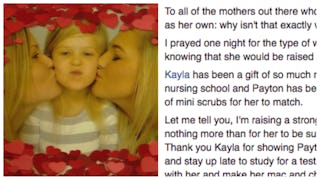 This is co-parenting done right
There is nothing easy about ending a relationship when you have children. And if your ex decides to remarry or begin a new relationship, being a part of a blended family can be challenging. But one Missouri mom is speaking out to remind others that if you find yourself in a situation where another person comes into your child's life, find a way to celebrate them for all they are doing.
Brittney Johnson wrote a Facebook post to her daughter Payton's "bonus mom," Kayla Imhoff, thanking her for all she does for their family. "To all of the mothers out there who throw a fit when another woman treats your child as her own: why isn't that exactly what you want? I prayed one night for the type of woman my daughter's father would be with, knowing that she would be raised in two homes," Johnson began.
"Let me tell you, I'm raising a strong girl, a smart girl and a sweet girl. And I want nothing more than for her to be surrounded with role models who are exactly that," she went on. Imhoff is in nursing school and Payton has been "infatuated" with the thought ever since. Johnson said Imhoff even ordered Payton a pair of scrubs just like hers and it's clear by the pictures how much little Payton adores her.
In most cases where two people split, your ex will eventually find someone else, and this can be stressful when children are involved. You will wonder if your kids prefer them over you. Will they call them "mom" or "dad?" But as soon as you stop worrying about how it will affect you and start realizing the benefit your children will gain from having another loving person in their lives, that fear will vanish. It takes hard work, communication (and then more communication), and selflessness from all parties involved, but it can happen.
"Thank you Kayla for showing Payton how to chase her dreams, how to work hard and stay up late to study for a test. You're a true role model and an amazing bonus mom and we are so proud of you!" Johnson continued.
No one said it was easy to get involved with someone who has a child. Not only are you dating the person, but you are trying to find your place in that child's life, as well as their extended family, their ex – the list goes on and on. Johnson told Scary Mommy her advice going into these situations is to go into it with an open mind. "Remember that they are people too and they deserve a chance to have a special place in your child's life as well. The person you are co-parenting with is not your competition, but your teammate, and if you take the time to get to know them and to get to trust them, it is so much better for everyone all the way around."
"If you're co-parenting, and seeing your child doing things like this doesn't bring a smile to your face, reconsider what's truly best for your child. Payton has more people to love her this way, and what more could a mother ever want for her child?" Johnson said.
It really does take a village and Johnson agrees. "It takes a village, and I happen to love mine," she concluded. Some villages may have more members than anyone originally imagined, but it doesn't make them any less of a family.
This article was originally published on