Crafty Mom Turns Her Husband's Old Shirts Into Cute Outfits For Her Girls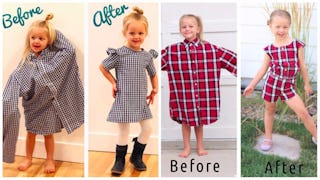 Sewing skills on point
Moms knows two things to be true: it's hard to find time for hobbies we love, and kids outgrow their clothes faster than we can buy them. But one genius mom has found a way to solve both problems at once. Stephanie Miller makes seriously cute dresses and rompers for her daughters using fabric from their dad's old shirts.
Miller then posts her one-of-a-kind creations on Instagram.
Miller says the idea to repurpose her husband's old clothes for her girls came to her when she couldn't bear to see a shirt that was practically brand new get thrown out. "Three months ago, my husband was getting rid of clothes and on top of the pile was a shirt I had just given him for Christmas," she told The Huffington Post. "I was frustrated at him for wanting to get rid of something so new, but it had shrunk. I kept it and a few of his other shirts in hopes of making something out of them. I follow some other seamstresses on Instagram and saw some of their refashions and thought, 'I could try that.'" The results are adorable. Can we get these in our size?
A great part of making clothes yourself is that you can keep up with current fashion trends while providing functionality for your kids. Miller says she loves the look of rompers, but as a mom of the newly potty trained, they can lead to bathroom accidents. Her solution was to design a two piece outfit that looked like a romper, but could come off quickly for those "gotta go" moments.
Her daughters love having their own couture collection of dresses. "My 3-year-old calls the dresses I make her 'Elsa dresses' and wears hers every week," she said. "When I'm doing laundry my little girls will pick up their daddy's shirts and make requests for dresses."
In addition to her four-year-old and three-year-old daughters, Miller has a five-year-old son and a five-month-old baby boy. She likes to redesign her husband's shirts as dresses because it's kind to the environment and saves money on buying fabric. Plus she saves time on sewing since some of the button work and hemming is already done fore her. That's genius.
Miller has been creating forever. She graduated from Brigham Young University with a teaching certificate in fine arts. She even taught art classes. But after she gave birth to her first son, she struggled with postpartum emotions and finding joy in making things again.
Her husband surprised her with a sewing machine in hopes of sparking a new creative outlet. Soon Miller finding joy in making things again. She started with stuffed animals and graduated to dresses with the help of YouTube tutorials. "I was hooked!" she says. Beyond her daughter's dresses, she even makes new looks for herself.
This article was originally published on