Mom's Post About Daughter Trapped In Front-Loading Washer Is A Must-Read
by Cassandra Stone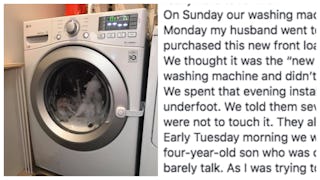 Image via Facebook/Lindsey McIver
Mom says her daughter locked herself inside the washer while the family was still asleep
All parents are intimately familiar with the washing machine — sometimes it feels like the laundry room is where we spend most of our time. Which is why this mom's viral post about her young daughter and their new, front-loading washer serves as a must-read warning to parents everywhere.
Lindsey McIver shared her family's terrifying ordeal on her Facebook page, where she admits she was "hesitant" about telling the story. "First, because of the inevitable online mom-shaming that is bound to ensue; and second, because it's just really hard to re-live," she says.
McIver writes that she and her husband recently replaced their old washer with a newer, front-loading model. They brought it home, installed it, and told their kids not to touch it — just like any parent would.
But as any parent knows, telling your child not to touch something doesn't mean they're not going to touch it. This is where McIver's story will make your heart stop.
"Early Tuesday morning we were woken up by our four-year-old son who was crying so hard he could barely talk," she writes. "As I was trying to understand what he was saying, my husband flew out of bed and down the stairs. It was then that the realization hit. He had said: Kloe. Inside. Washer."
McIver and her husband rushed to the laundry room in the basement. "My three-year-old daughter Kloe was LOCKED inside the airtight washing machine. It was tumbling and filling with water. She was screaming but you couldn't hear her."
Terrifying, right? And who would have thought it was even possible? Certainly not me, while I was reading it. Sure, when kids set their mind to doing things they shouldn't be doing, anything is possible. But something like this is unprecedented and unpredictable. McIver and her husband were able to quickly stop the washing machine, unlock the door, and get their little girl out — mostly unscathed, save for a few bumps and bruises and wet clothes.
"I post this because I can honestly say we did not realize the danger of this machine," McIver writes. "We are continually surprised at the new, inventive ways our kids come up with to try and die. And this was definitely a new one."
The photo in McIver's post shows they have since secured the door with a child safety lock, and after learning more about their new machine (remember, they'd only had it for a handful of hours before the incident occurred), they found a child lock feature that prevents the machine from starting.
"We hadn't even used the machine yet so we hadn't looked at any of the settings," she says. "Also, it obviously took two curious kids to pull this off. I want to encourage anybody who has this type of front-loading washing machine and small children, or even grandkids who visit, to lock the door with a child safety lock and always keep the child lock setting on!"
And McIver isn't here for any mom-shaming, even though she understands the can of Judgement Worms she's opening by sharing her post. She just wants to prevent other parents from experiencing the same kind of accident.
"I realize that there are ways we could've prevented this from happening," she says. "This is the season for swimming pool accidents and kids being left in hot cars and all sorts of other horrible accidents. And that's what most of them are. Accidents. Shaming the mom doesn't do anyone any good. We need to be open and honest about our mistakes to help one another keep our kids safe. And trust me, that mom is already beating herself up enough."