Mom's Rant About Pointless Half-Days Will Make You Say 'Hell Yeah!'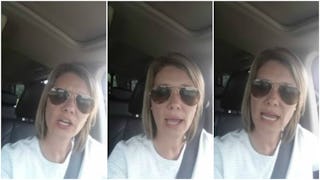 Image Via Facebook
Mom's viral rant hits a home run when it comes to pointless half-days
Memorial Day weekend is here, and with that comes the unofficial acknowledgement of summer's arrival. Regardless of how you feel about summer vacation, only one thing stands in the way of three months without schedules, homework, and never-ending drop-offs: those completely pointless, year-end half-days.
Susannah Lewis, an author, mom, and the creator of Whoa Susannah posted a video on Facebook that perfectly and hilariously captures our collective feelings about these days.
There are probably valid reasons why schools across the country add these half-days into the calendar. Reasons like final exams, grading, meeting state requirements, desk and classroom cleaning, etc. But can we just please get real about these half-days for a second? Nothing. Productive. Happens. During. A. Half. Day.
"That just means I 'half' to get up at 6:30, drag these kids out of bed, send them to school for three hours to get hyped up on sugar, high fructose corn syrup, Pixie Stix, and donuts and cupcakes, and then I 'half' to go get them before the sugar high has even worn off," she says in the video, which has accumulated nearly four million views and over 40,000 shares.
She's not wrong. Not even a little bit. When exams are over and grades are finalized, kids are basically just going to school for three hours' worth of bouncing off walls, eating junk food, and watching movies that aren't remotely educational but rather a perfect babysitter for teachers who, like us moms, are so done for the year. To get everyone up, fed, dressed and out the door on time for a completely unnecessary handful of hours is ridiculous.
"Let these teachers go home," she pleads. "They are ready to go home. They can tell your baby goodbye the day before. They don't want to come back for another half day and do another hand print and hand craft. They're ready to put these children on the bus to go home."
The best part of her completely justified denunciation? The follow-up posted the day after her video, where she shares a photo sent to her by one of her son's teachers.
Touché, teachers everywhere. Just a solid reminder that summer is within grasp, and we're all in this thing together.