Try Not To Sob At These Photos Of Women Being Sworn Into Congress
by Thea Glassman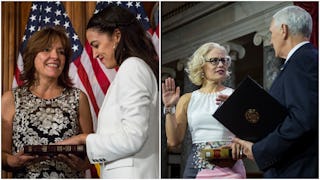 Image via Zach Gibson/GettyImage via
There were so many powerful moments from the Congressional swearing-in ceremony
On January 3, a record number of women were sworn into Congress. The diverse, passionate freshman class includes the youngest congresswoman, the first Native-American women, and the first Muslim women. Suffice to say, pictures from the ceremony were incredibly moving, powerful, and will make your day.
First off, Alexandria Ocasio-Cortez was sworn in and all of us in the peanut gallery were feeling all the feelings (because who hasn't joyfully watched her explain policies while eating her mac and cheese on Instagram??)
Also, please enjoy this video of a Capitol worker fully freaking out when he caught Ocasio-Cortez walking to her swearing-in ceremony.
Ocasio-Cortez shared on Twitter the very powerful reason behind her wardrobe choice.
Rashida Tlaib, one of the first two Muslim women elected to Congress, wore a Palestinian thobe during the swearing-in ceremony. She posted pictures with her fellow newly minted congresswomen, along with the caption: "We brought new life into the United States Congress because you believed in us."
Oh yeah, and when she cast her first vote as congresswoman, her two sons dabbed. We couldn't love this more.
Ilhan Omar made history as the first Somali-American to be elected to Congress. This moment of her hugging her son after she was sworn in will make your heart swell about fifteen sizes.
After Sharice David and Deb Haaland, the first two Native American women to be elected to Congress, were sworn in, they shared an incredibly touching embrace.
Ayanna Pressley became the first black congresswoman from Massachusetts. "And just like that, with my hand on grandad's bible, it's official: @RepPressley," she tweeted.
Meanwhile, Representative Babara Lee got alllll the good selfies. "First day of a new era," she wrote.
And Nancy Pelosi's granddaughter was legitimately freaking out while house members voted for her grandmother. It was quite possibly the cutest thing ever.
A personal favorite moment: Kyrsten Sinema, the first openly bisexual Senator in history, was sworn in with a law book instead of a bible…by Mike Pence himself.
I loved it and so did the rest of the internet.
Congratulations to all these amazing trailblazers. Can't wait to see the work you do.