This Mom Is The U.S. Reigning Air Guitar Champion So Dreams Obviously Come True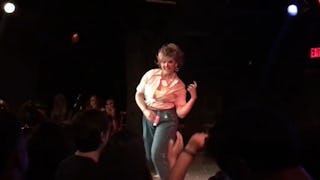 Image via YouTube
Mom shows youngsters how it's done at the Air Guitar Championships
So it turns out that the Air Guitar National Championships is a thing, which is one thing you probably didn't expect to hear today. Another thing you probably didn't expect to hear is that a mom is the reigning champ.
She goes by the name "Mom Jeans Jeanie."
Her real name is Nicole Sevick and she's the reigning US National Air Guitar champ, which earned her a trip to Finland where she competed in the Air Guitar World Championships.
While she didn't win the the 22nd annual (yes, 22nd!) Air Guitar World Championships – she came in sixth), her Mom Jeans Jeanie alter ego did win our hearts.
In an interview with TRT World, she discusses her performances, which she says are powered by the charisma of "airness," which "just comes naturally" when she gets up on stage.
Her character's full name is apparently Jeannie Van Hammage, and she takes the "Hammage" seriously, judging by her over-the-top mom uniform.
I actually have a friend from college who performs in air guitar competitions, and based on his and Mom Jeans' routines, it's clear that there's a lot more to playing air guitar than simply pretending to play guitar.
There are elaborate costumes and entire choreographed routines, and the performers really go for it. It's fantastic to see a mom representing on stage. If there is anyone who use their imagination to have fun, it's moms, who are constantly called upon to find ways to entertain their children.
I think it's safe to say that Mom Jeans takes the cake in that department. In the interview above, she described her performance in the world championships as "a nice little lullaby that will melt [kids' faces]" and put them to sleep.
I didn't know much about these air guitar competitions before today, but if pretending to play the guitar will put my kids to sleep, I'm all for it. My wife had better start practicing.