Unleash Your Inner Mermom At A Mommy And Me Mermaid Swim Class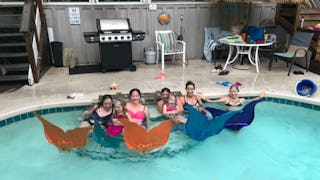 Image via Southernmost Mermaid School/Facebook
Mermom and Me classes are the ultimate bonding activity for you and your little mermaid
For a creature that lives in the ocean, mermaids are everywhere right now. Mermaids are so popular, moms and kids alike cannot get enough of them. But the closest we can get to living under the sea is flinging our sad little human legs around the pool — until now. Mommy and Me mermaid swim lessons exist, and we want in.
Southernmost Mermaid School in Key West, Florida offers Mermom and Me classes to give you and your little one a chance to perfect your fin flipping skills. What does a Mermom and Me class entail exactly? Besides learning how to swim like Ariel and her crew, the class teaches you about mermaid culture, communication and even how to talk like a mermaid. Forty dollars (there's a military discount) gets you the lesson, plus fin rentals (we know you're a real mermaid, but just in case you don't want to reveal your true nature in public).
Let's be honest, most mommy and me classes are usually about as much fun as a trip to the dentist. Sitting in a circle feigning enthusiasm for The Itsy, Bitty Spider. Chasing your toddler around gymnastics equipment and hoping you don't end up in the ER. You know it's "bonding time," that you should go because your kid might get something out of it, but you're so relieved when it's over. Playing around in a heated pool while learning how to speak mermaid with your kids? Now that actually sounds like fun.
A great bonus is that Southernmost Mermaid School's Mermom (we love that word) and Me classes don't require your little mermaid or triton (that's what the school calls boy mermaids, in case you didn't know) to be able to swim to participate, so you don't have to wait until your baby can backstroke to take part.
The school also does birthday parties and private mermaid swim classes. We know it's a fun activity to do with kids, but could you imagine a girls' night out mixing mermaid tails with cocktails? Yes please.
Sebastian was right. Especially right now, the human world, it's a mess. We deserve to do something that's pure fun with our kids, for our own enjoyment as much as theirs. These Mermom and Me swim classes may not be life under the sea, but they're still pretty awesome.