With Maternal Mortality Rates On The Rise, Senator Gillibrand Issues New Legislation
by Wendy Wisner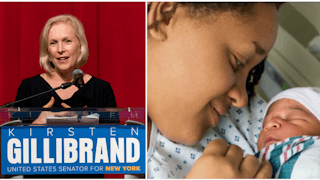 SOPA Images, Contributor / Getty Images (left photo); Ariel Skelley / Getty Images (right photo)
It's hard to believe that, in a country as rich and modern as ours, we have the highest maternal mortality rate in the industrial world. But it's true. Not only that — the U.S. has seen a 26% increase in these rates over the past 14 years. Yes, you read that right.
If all of this weren't depressing enough, there is a racial component at play here, as well: maternal mortality affects black women four times as much as white women, with many experts believing that this has to do with inherent racial disparities built into our healthcare system.
This is not acceptable in any way, shape, or form. Statistics like this are shameful. We all deserve equitable care, period.
Thankfully, folks are starting to become more alert to these monstrosities – and finally, lawmakers have decided that it's about time we do something about this issue. New York Senator Kristen Gillibrand recently announced that she is introducing legislation to help fund measures that would tackle some of these issues head-on.
The bill is appropriately called the MOMS Act, which stands for Modernizing Obstetric Medicine Standards. According to a press release about the legislation, its objective is to "help reduce maternal deaths and complications in the United States by providing funding to states and hospitals to develop and implement standardized maternal safety best practices, in conjunction with the Department of Health and Human Services (HHS), to prevent and respond to complications arising from childbirth."
Senator Gillibrand, who represents my home state of New York and is an all-around badass rockstar, says that racial disparities in maternal care are particularly acute in her state, and she cites some alarming statistics in her press release.
"In New York City, black women are twelve times more likely to die as a result of pregnancy and childbirth," Gillibrand says. "This is completely unacceptable and largely avoidable, and it's a crisis that we can and must solve now."
12 TIMES. This is truly appalling. It breaks my heart that this is happening, especially because it is actually so preventable. Senator Gillibrand wants to provide the funding and policy changes that will make it possible for these mothers' lives to be saved.
There are four key steps outlined in the MOMS Act that aim to accomplish this, as described in the press release.
First, the legislation has a goal of updating maternal safety standards for hospitals, and would "expand the Alliance for Innovation on Maternal Health (AIM) Program at HHS to develop new and update existing standardized maternal safety best practices and to provide technical assistance to states and hospitals to voluntarily implement such standards to prevent maternal mortality and morbidity."
Additionally, the Act would create grant programs to aid hospitals in implementing improved safety standards; it would fine tune and improve the CDC Pregnancy Mortality Surveillance System; and it would instruct the CDC "to provide technical assistance to State MMRCs to review pregnancy-related and pregnancy-associated complications."
Sign us up. This kind of legislation is so needed. And although it should have been introduced ages ago, it's better late than never.
Unsurprisingly, the legislation is being celebrated and supported by maternal health advocacy groups and maternal healthcare organizations like Moms Rising, the Black Mamas Matter Alliance, the American College of Obstetrics and Gynecologists, and the Association of Maternal and Child Health Programs. Senators Cory Booker and Kamala Harris are co-sponsoring the MOMS Act.
The American College of Obstetrics and Gynecologists (ACOG) comments in the press release that it is "thrilled to endorse Senator Gillibrand's legislation," adding that the high maternal mortality rates in the United States are "absolutely unacceptable."
Monifa Bandele, Senior Vice President of Maternal Justice Programs at MomsRising agrees about the absolute necessity of legislation like this, and believes that the action items outlined the legislation have the possibility of really making positive changes in the lives of women and children from all walks of life.
"This legislation would help change that by standardizing protocols and increasing training for medical staff, which helps mitigate the impact of implicit bias, and authorizing a program to support hospitals serving low-income communities that are most at risk for maternal mortality," Bandele says.
In a statement released to Scary Mommy, Senator Gillibrand pulls no punches when it comes to explaining how very urgent and necessary it is that we tackle this problem.
"It's completely unacceptable that the United States has the highest maternal mortality rate in the industrialized world," she tells Scary Mommy. "Too many women across the country have died during and after childbirth because of preventable and treatable conditions like hemorrhage and preeclampsia, and this rate is especially high for black women, who are up to four times more likely to die as a result of pregnancy and childbirth."
Amen. We need to do something. NOW.
"We are failing our mothers and babies," Gillibrand adds, "and it's outrageous that so many of our hospitals still aren't taking this crisis seriously. Congress must immediately address this problem."
YES. They absolutely must. Too much is at stake not to.
Mothers lives are on the line here, and it's about time we took action to prevent these tragic losses.
This article was originally published on