Stuff That Moms Actually Want For The Holidays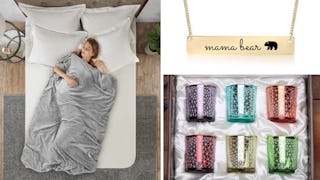 Image via Walmart
Moms want time away and naps, but we also want some gifts that we don't have to buy and wrap for ourselves.
We work hard all year to put our family's needs first. Moms deserve a little extra love and adoration when the holidays roll around. So here are some things we'd like to find under the tree this year:
Finally, an affordable Weighted Blanket that we don't have to feel guilty about topping our wishlist. These blankets can help with managing stress, anxiety, and insomnia. They are perfect for moms who only get sleep for a few hours at a time. So, most of us.
This 2-pack of Cooling Gel Pillows (one for each of you) is perfect for people who are constantly flipping their pillow over to the cool side. Who doesn't love new pillows? Everyone does. They're amazing.
This Sleep Eye Mask is a great addition to a much-needed nap, while you take the kids for a long drive somewhere. Please and thanks.
This Plush Fleece Robe is super comfy and a great excuse not to wear pants. Win-win.
Who doesn't love waffles? This Rotating Waffle Maker can make four waffles in 10 minutes and is more than 50% off right now. Whipped cream not included.
Don't underestimate our love for new Thick and Plush Towels that haven't been touched by our sticky kids or washed a million times.
This Essential Oil Diffuser is a great way to keep the air humidified and smelling amazing year-round. I'll take two for my son's room alone.
Essential Oils are perfect for freshening your home with natural scents. (This highly-rated variety pack includes lavender, frankincense, tea tree, eucalyptus, blood orange, peppermint, lemongrass, rosemary, and is a great addition to the oil diffuser!)
This L'Oreal Skincare Gift Set will go nicely with our time away from the kids and our new robe, while we indulge in a spa day at home.
Slipper Socks are perfect for the winter months. Keep our toes nice and toasty or we'll warm them up on you. You've been warned.
I'm a coffee snob and I LOVE Peet's Coffee. Their holiday blend is perfect for waking up to on cold mornings, and most of us need it to survive. (Their Big Bang blend is also yummy, and available for Keurig here.)
This Heat Color Changing Mug can make mornings more fun. And it's a pretty accurate representation of my cold, black soul before my first cup of coffee.
A Personalized Photo Canvas is perfect for anyone who never gets a chance to print and hang their pictures, which is all of us.
These Bluetooth Noise-Canceling Headphones are perfect for any mom who likes to listen to music while she gets stuff done, as tiny humans run around her.
This Mama Bear Necklace is a perfect gift "from the kids." It's a sweet reminder that we're appreciated, and it's also available in silver.
This Electric Tea Kettle is perfect for making tea, coffee, or cocoa in our room or office. Especially if/when we've already locked ourselves inside and don't have access to the stove.
These Yoga Pants are super affordable and will be a great addition under the tree since most moms have at least one pair that needs to be replaced.
These Stress Relief Aromatherapy Candles are a great addition to a bubble bath along with our new towels. If anyone needs stress relief, it's moms over the holidays.
No matter what you get the special moms in your life, it's the thought that counts. But if you want to get moms something they really want, you should probably use this list. And a happy mom is a happy everything.
We are a participant in the Walmart.com Affiliate Program and may earn fees by linking to Walmart.com and affiliated sites.
This article was originally published on