Moms Claim Daycare Workers Waxed Their Kids' Eyebrows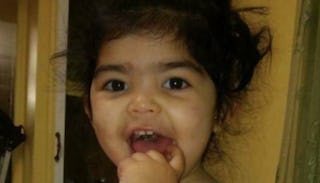 Image via Alyssa Salgado
Washington State is now investigating the daycare accused of waxing kids' brows
It was a typical day on the Thursday morning that Alyssa Salgado, a mom from Kennewick, Washington, dropped off her almost-two-year-old daughter, Lilayiah, at a local daycare center so the mom could attend school.
But when she picked Lilayiah up that evening, she noticed something was wrong. Lilayiah was missing a patch of hair in between her eyebrows, and the skin there was red. It looked like it had been waxed, Salgado said.
"It is something no child should go through," Salgado told Scary Mommy. "She was beautiful the way she was."
Salgado posted about the incident on Facebook, where she learned that another mom who uses that daycare center noticed her son also appeared to have had his brows waxed that day.
Glenda Marie Cruz made a similar post, and told local news station WLTX that her son was afraid and appeared to be in pain when she picked him up that day.
"I tried to touch his face. He doesn't let me touch his face. He says, 'No, No, stop,' and it hurts me because that's my baby," Cruz told WLTX.
Salgado complained to the center's director the following morning, and now the daycare, which is run by the Boys and Girls Club of Benton and Franklin Counties, is under state investigation. But Salgado wonders if the investigation is being taken seriously.
"I have just called Boys and Girls Club and the daycare is still up and running," she told Scary Mommy. "He said, 'I understand those allegations, but it's a safe and positive place for kids,' and I disagree with that."
Salgado said she couldn't say more because she's working with an attorney who has advised her not to comment further.
Brian Ace, executive director of the Boys and Girls Club of Benton and Franklin Counties, released a statement in response to mounting media coverage this week, saying, "The Boys and Girls Club takes these allegations seriously and will work to support the investigation process."
But in the meantime, both Salgado and Cruz say they've removed their kids from daycare and grapple with guilt over not being there to protect their kids.
"I can imagine her calling out mommy and I wasn't there to protect her. I failed her," Salgado wrote. "But I refuse to let this go unnoticed."
This article was originally published on