This Mom's Grocery Store Maternity Photoshoot Is Relatable AF
by Cassandra Stone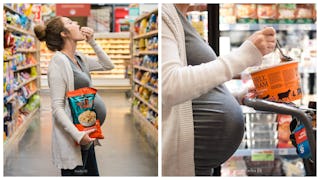 Image via Studio 154 Photography
Pickles + ice cream =most relatable maternity shoot ever
As all moms can attest to, the place we're most intimately familiar with and spend what feels like all of our spare time and dollars is… drum roll… the grocery store.
So when a mom of two was looking for the perfect way to celebrate her third pregnancy, what better location for her maternity photos than the ice cream aisle at the supermarket?
RELATED: The Most Gorgeous (And Most Importantly, Comfortable) Maternity Photoshoot Dresses
Amy Scott of Montgomery, Texas, decided there's simply nothing that screams "#MomLife" more than opening up a bag of chips and taking adorable pictures at her local grocery store. So she teamed up with Studio 154 Photography to make it happen, and thus the most relatable maternity shoot was born.
"This was definitely the first time doing a maternity shoot in a grocery store," says Lauren Giles, the photographer behind Studio 154. She says she and mom Amy brainstormed to come up with something a little different.
"She knew she wanted to capture her last pregnancy, but she wasn't a big fan of dressing up and being in a beautiful field, which is really popular right now," Giles says.
After getting to know Amy better, and understanding that hunger and cravings are basically the universal pregnancy standard, they took their creativity right to aisle 5.
There isn't a pregnant woman on earth who doesn't know the struggle of heartburn and indigestion for those long nine months. That frowny face? SPOT ON.
Personally, a realistic maternity shoot for me would be this exact concept or a trip to Old Navy for their flip-flop sale — because my feet were so swollen they resembled blown-up rubber gloves.
The best part of the photo shoot has to be the fact that the mom showed up with her own spoon: "Ya know, just in case I need some ice cream." Amen to that.
Some mamas go for the full glam, ethereal look for their maternity photo sessions, and those types of pictures are truly lovely. But we must say, between the hilarious Target maternity shoot and this one, we're so here for the real-life #MomLife photos too.
This article was originally published on