Custom Teddy Bears Are A Great Way To Save Those Receiving Blankets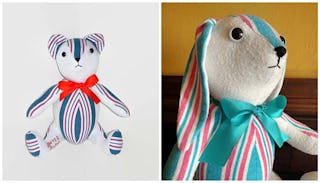 Image via Etsy/ Karen Heenan
Personalized bears made from receiving blankets are a great gift for new moms
Receiving blankets are one of the most cherished mementos from your child's first days on the earth. They're the first blankets your baby is swaddled in. Most of us would probably say that our kids' receiving blankets are folded up neatly in a drawer or box somewhere not seeing the day of light. But, what if you could turn them into something that could be admired and loved for longer?
There's a trend popping up on Etsy that we can totally get behind: custom teddy bears made out of receiving blankets.
Adorable, right? And just a tad better than shoving your blanket folded into a drawer or keep safe box to never been seen from again.
Karen Heenan's runs one such Etsty shop that takes your receiving blankets and turns them into cuddly custom bears (or bunnies) with your baby's name and birth date embroidered on them. "I made my first receiving blanket bear at the request of a friend, but it was right up my alley because I love working with recycled materials," Heenan tells Scary Mommy.
Here's how it works for Karen's shop: you purchase the stuffed animal on her Etsy page. The bears and bunnies are $54.99. Once you do that, she'll send you a shipping address for you to send your blanket. You'll be notified when it arrives and can expect it to be done two weeks from the time she receives the fabrics.
Her bear is about 14 inches tall (standing) and 11 inches high (seated). The animal will have black and white safety eyes, which are safe for babies and small children. It will be stuffed with new polyfill stuffing. If your baby is too little to play and cuddle with the stuffed animal it can be used as nursery decor until they're a little older.
There are other Etsy stores as well, like Breezy Ann Boutique and Beth's Sweet Stitch. Each have their own way of handling the shipping and construction of the doll. The prices range from $27 to $55.
So much of having a new baby is figuring out how to capture fleeting time with a new human that is growing and changing exponentially minute by minute. It's true that the days are long and the time is short, and we're all so keenly aware of that. That's probably why these lovies are so popular – they hold onto the memories of yesterday, provide comfort or playfulness for today, and will be a source of reflection and adoration in the years to come.
This article was originally published on