Mom Shares Emotional Message About Car Seat That Saved Her Child's Life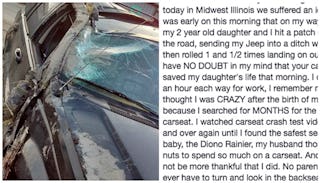 After surviving a rollover accident, a mom shared her story
Three weeks after a harrowing car accident, an Illinois mom penned an emotional message to the car seat company that saved her child's life. Andrea Murray was driving to work with her two-year-old daughter in tow, when she hit a patch of ice, sending her Jeep into a ditch. The car rolled 1 and ½ times before it landed on its side.
"Dear Diono, it's taken me 3 weeks to write this post as emotions from this day still run high," Murray began in her Facebook post. "I have NO DOUBT in my mind that your carseat saved my daughter's life that morning."
There's no doubt choosing baby gear can be an overwhelming – and expensive – undertaking, but Murray did her homework when it came to her child's car seat. "I remember my family thought I was CRAZY after the birth of my daughter because I searched for MONTHS for the perfect carseat. I watched carseat crash test videos over and over again until I found the safest seat for my baby, the Diono Rainier."
Not everyone in the family was immediately sold on the car seat, however. With a price tag near $400, Murray's husband was a little more apprehensive about the purchase. "My husband thought I was nuts to spend so much on a carseat," Murray said.
She went on to write she could not be more thankful that she did her homework and chose the Diono brand because, even though the rolled over and the roof and windows of the car were broken, the car seat kept Murray's daughter completely safe.
"No parent should ever have to turn and look in the backseat to see if their child is still alive, but if you ever do I hope you see what I saw. My child perfectly snug in her carseat, she did not move an inch, her carseat did not move an inch, everything around her was broken, but she was perfect. She did not have a single scratch on her."
The company responded to Murray's emotional post company, saying: "All of us at Diono are thankful your family is safe! Stories like yours help raise awareness about car seat safety and why it is so important to make sure your car seat is installed correctly and that your child is properly harnessed every single time you drive."
Hundreds of commenters to the post shared their own stories of gratitude for the Diono brand, but as Diono pointed out, it isn't just the car seat that's important, but the correct installation that matters. Murray says she watched multiple step-by-step videos from Diono, and then once she and her husband had installed it, they had the seat checked by a car seat technician.
"My advice to parents would be to do your research," she said. "Don't assume just any seat will protect your child, do everything you can as a parent to aide in that protection. There is nothing that carries a more precious cargo."
Most police and fire stations offer free car seat installation checks, and you can also click here to find a car seat inspector near you. The National Highway Traffic Safety Administration (NHTSA) also offers several how-to videos and helpful tips for safe car seat installation on its safercar.gov website.
According to the Car Seat Lady, a website dedicated to providing accurate information regarding car seat safety, "the safest, best car seat is one that will fit securely in your vehicle, that fits your child's age, height, and weight, that you can operate correctly every time, and that fits your budget." A more expensive car seat doesn't necessarily mean a safer car seat, but given that the children grow quickly and their car seat needs change over time, car seat expenses can add up pretty quickly. It's worth the investment, though, when you're talking about the safety of your child.
After all, as Murray said in her post, "you cannot put a price on your child's life."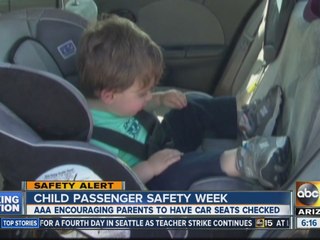 This article was originally published on