Mom's Napkin Notes Give Her Daughter A Daily Dose Of Girl Power
by Meredith Bland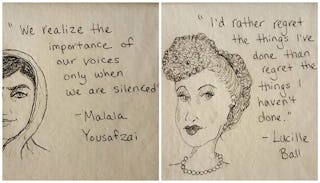 Rhode Island mom draws and quotes feminists on daughter's lunch napkins after election
Hey there, fellow women. It can tough to be us, sometimes, can't it? For all the advances we've made in women's rights, we still have days where we say, "Wait, but that's unfair and hateful and misogynistic and oh yeah sorry I forgot." For a mother in Rhode Island, this week was the time to remind her daughter, through some fantastic drawings on her napkins, that she is better than what our country has told her she is.
Meaghan Elderkin is the mother of two girls — Holden, 9, and Elsa, 2. Elderkin has been drawing on her older daughter's lunch napkins since Holden, now a fourth-grader, was in preschool. "My mother used to draw on my lunch napkins, so drawing for my own daughters' was a no-brainer," Elderkin told Scary Mommy. In the past, her drawings have been of animals with clever names, like a cow called the Moo-na Lisa, a koala named Frida Koala, a bee named Susan Bee Anthony, and a skunk named Stink Floyd. But following the election of Donald Trump, Elderkin felt that she needed to put the values she has already been instilling in her daughters on paper. "[I] figured this week she could use a reminder of how strong and brave she is."
Elderkin posted images of these napkins to the pro-Hillary Facebook group, Pantsuit Nation, this morning. In four hours she received over 1,300 comments from other members thanking her for sharing the pictures and complimenting her on her obvious awesomeness. The response took Elderkin by surprise: "This has been overwhelming. I didn't expect this reaction. I just enjoy drawing them for my girls and snap the photos with my cell phone." In fact, she told Scary Mommy, Holden used to trade the napkins to her friends for "better snacks" until last year when, with the help of her teacher, she collected all of them in a book and presented it to her her mother on the last day of school.
But Elderkin's images are more than just napkin doodles — they are truly moving, especially to those of us who have daughters. The drawings, and, more importantly, the act of one mom slipping a little bit of confidence and a reminder of self-worth into her little girl's day, are an inspiration to us all to keep going. They remind us that we, as women, have been here before, and we can fight our way through it again. As one commenter put it, "From the smallest of acts to the greatest, we move forward."
You can find a collection of Elderkin's drawings on her public Facebook page.
This article was originally published on