Mom's Internet Friend Sends Her A Car Seat Proving 'The Village' Still Exists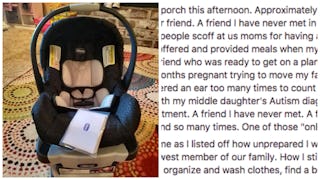 Image via Facebook
"To those who say the village is dead"
The "village" that supposedly still exists in modern motherhood has gotten a bad rap lately. Many are asking where is it? Where's the community of fellow parents who are lovingly concerned about your kids? It can't possibly exist online, because that's not real, right?
Well, one mom just proved "the village" is still very much a thing, and above all, real.
On the Love What Matters Facebook page, Abby Murphy submitted a photo of a brand-new car seat. A car seat that was purchased and sent to her by a woman she's never met in person before.
Murphy says the car seat arrived on her porch about two days after venting to a dear friend.
"A friend I have never met in person: one of those "online" friends people scoff at us moms for having and relying on," she writes.
She's exactly correct; many moms are ridiculed for having friends online that they've never met before because they're supposedly not real friends. But they're definitely real friends, as this sweet story proves.
"A friend who has offered and provided meals when my child was hospitalized, a friend who was ready to get on a plane to help me when I was in tears 7 months pregnant trying to move my family across country," she writes. "A friend who's offered an ear too many times to count when I've been overwhelmed with my middle daughter's Autism diagnosis and subsequent treatment."
That sounds like a legit friendship to us. Hell, it sounds better than some of the friendships we've had in our non-virtual, "real" lives.
Murphy says her friend has gone above and beyond for her many times, even though they've never met in person.
"She listened to me as I listed off how unprepared I was for the imminent arrival of the newest member of our family," she writes. "How I still needed to get out the baby things, organize and wash clothes, find a babysitter, get a car seat, get a clue in general."
We're sure every mom can relate to the pre-birth frazzle of feeling overwhelmed by a mounting mental prep list.
"And here, two days later arrives a car seat. Not because I couldn't or wouldn't eventually get it myself. Because she saw a need, and a way to alleviate one check on an overwhelmed mom's long list of to do's."
This isn't just about the car seat. This gesture from one mom to another goes well beyond just checking an item off a list. What that car seat represents is compassion, empathy, and above all, no shame. Another person, upon hearing this mama's plight, could've just as easily done nothing at all. Or done worse, judge and thought to themselves, Wow, this mom really needs to get her shit together already and quit bitching. But that didn't happen here.
The mom wrote, "This is more than a car seat to me. It will forever be a reminder that there are really good people out there: people who care, people who go above and beyond. My village."
Her village doesn't look like a tribe in Africa. It doesn't look like a group of suburban moms looking out the window and keeping an eye on all of the neighborhood kids in a cul-de-sac. This woman's village formed on the internet, but is every bit as real as any other kind.
This woman's online friends prove that there are more than screens between us. There are feelings and emotions. Their inspiring story teaches us how we can reach beyond the virtual world and make a huge impact.
As the lines get increasingly blurred between what's part of our "real" lives versus what's part of our online lives, it's important to remember that regardless, we can practice understanding and kindness in both lives. And who knows, maybe offering help to a struggling mom online could be the start of a beautiful "real" friendship.