5 Things That Moms Would Redesign With A Built-In Vacuum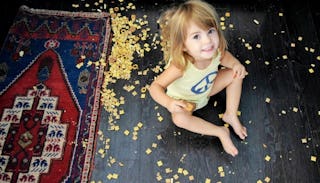 Let's face it, motherhood is one messy, crumb-filled, goldfish-carpeted existence. It's high time that some everyday household products came equipped with a vacuum. Are you with me on these?
1. Her Kitchen Table
2. Her Stroller
3. Her Child
4. Her Handbag
5. Her Backseat
Good news, the All-New 2017 Chrysler Pacifica is available with the Stow 'n Vac® built-in vacuum. For real! Now can someone get started on hooking up a hose to my kitchen table?
This article was originally published on