Mom's Thank-You Note To Ex's New Girlfriend Goes Viral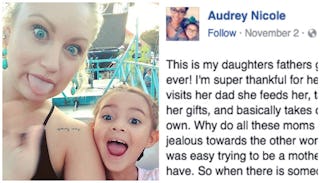 Image via Facebook/ Audrey Nicole
Mom writes a thank-you note to her ex's new girlfriend
You don't have to look far to hear endless stories of drama between ex-wives and new girlfriends. Blending families is not easy, neither is being a stepmother to a child you did not have. That's why it's so refreshing to see one mother step up and write about what is really important when people who have kids move on from each other: supporting their children at all costs.
Audrey Loving and Corey Henry had a daughter together when they were both 18 years old. TODAY reports that after four years of enduring a long distance relationship, they realized their relationship was not going to work out. They live in different states and Loving has full custody, but Henry remains very involved in his daughter's life.
Loving is from a blended family, so when Henry began dating other women she was determined to make sure it would all work out."I come from a blended family — I have stepsisters, half-sisters," she told TODAY. "Growing up, I heard the negative talk about the 'other woman,' and I didn't want my kid to hear the same thing … It's not fair. Kids are smart."
"This is my daughter's father's gf. The sweetest thing ever! I'm super thankful for her because when she visits her dad she feeds her, takes care of her, buys her gifts, and basically takes care of her like her own," Loving wrote in a post that has gone hugely viral. "Why do all these moms act so spiteful and jealous towards the other women?"
Good question. If a relationship is over, it's over. If someone is willing to reach out and love your child, it's best for everyone to fully accept that.
"NO ONE said it was easy trying to be a mother to a kid you didn't have. So when there is someone trying, don't push them away!" Sometimes it's hard to take the high road, but this is such great advice. It's so much better for everyone involved — especially children.
My partner had a six-year-old daughter when we began dating, 10 years ago. I've loved her like my own ever since. It was a little awkward in the beginning, navigating the space her mom may need to deal with the idea of another woman in her daughter's life. But we've never had anything but respect for each other and it's never been negative in any way. Can't imagine a child having to navigate that kind of negativity.
"A kid can have two moms because in my eyes the more people that love her I'm happy!!! I would never make her feel like an outsider I'm extremely thankful for this girl ❤️❤️," she continues. "Love more hate less!!!"
That's great advice for all of us. Good job, mama.
This article was originally published on