Mom Films Video For The Son She Put Up For Adoption So He'll Always Know He Was Wanted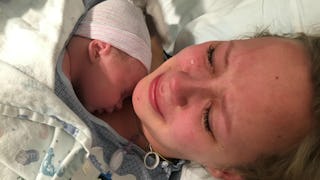 Image via Hannah Mongie
Here's video proof that adoption is a selfless act of true love
Deciding to place a baby for adoption is an extremely difficult decision to make, even if you know it's what's best for you and your child. Hannah Mongie of Utah wanted her newborn son to always understand how much she loves him, so mere hours before he was placed with his adoptive parents, she filmed herself explaining her reasoning in hopes that he would watch it when he gets older.
In the now-viral video that was shared to the Love What Matters Facebook page, a tearful Mongie explains to baby Taggart why she hand-picked another couple to raise him. "This is my son, Tagg, whom I placed for adoption in March of 2016," she wrote in the video's description. "This video was created so that he would be able to look back and know that this decision was made purely out of love for him. He will never have to think that I 'gave him up' or that I did not love him. He will always be able to know that I loved him more than anyone else in this world."
She pours her heart out to the baby, saying everything she's feeling in hopes of answering all the questions he may have in the years to come. "Right now, is the last hour of those two days before I send you off to Brad and Emily and then you're going to be their little boy," she tells him. "And I just want you to know that I really love you so much. More than I've ever loved any other human in the whole world."
"I just wanted to let you know that I love you and I made this decision completely out of love and if I didn't love you I wouldn't be in the position at all and you wouldn't have this awesome family," she says.
Mongie was 18 when she became pregnant. Taggart's father, Kaden, was 20. As she explains in the video, he was super excited about her pregnancy. "He loved you so much from the very, very beginning," she tells the baby. "At my eight-week appointment with you I heard your heartbeat for the first time and he wasn't there for it, he was in class so I texted it to him and he ran out, he was so excited! From then on he couldn't be happier."
Mongie tells Scary Mommy that while the couple was committed to each other, they decided on adoption together. "We were both young with little to no college or work experience, so we decided together to choose an adoption plan. We both felt an immense amount of peace about it, so we started to look at families," she says.
But two days after Kaden heard the baby's heartbeat, his own stopped. "His mother called me and told my mother and I that he had passed away in his sleep," Mongie explains. An autopsy came back inconclusive, and it was determined he died from natural causes.
For a long time she couldn't bear to think about the adoption plan they'd discussed for their son. "I didn't get out of bed for two months after Kaden's death," she said. "And I most certainly was not going to even think of the word adoption! That was not going to be an option for me because Taggart was my last piece of Kaden."
In the end it was Mongie's overwhelming desire to put her son's needs first that made her circle back to her adoption plan. "Over time though, I learned that Tagg was his own person. He was not his father, and he needed a chance at the life he deserved," she says.
Using Adoption.com, she selected Tagg's adoptive parents, Emily and Brad Marsh. She says she knew instantly this was the perfect couple to raise her son. "Emily and I talked about everything under the sun in under two days. I had asked every difficult question out there and all of her answers blew me away beyond belief," Mongie shares. The two started to go on 'dates' and spent time together throughout the pregnancy. "We put his nursery together, we had baby showers, and we hung out with each other's families all the time," she shares.
Now, almost two years later, Mongie is able to let Tagg know how much she loves him. Mongie and the Marshes have an open adoption, though Mongie says the phrase doesn't fully capture their relationship. "I don't really see it as an 'open adoption' so much as I see them as just family," she says. "My parents call all of Brad and Emily's kids their grandkids. We get them all Christmas and birthday gifts as if they are our kids. Everyone's extended families have just taken each other in as their own. We are just family."
All the adults in Tagg's life realize that having more people to love a child isn't cause for jealousy, it's a reason to celebrate. "Emily is still one of my best friends in the world and she is everything I want to be in a mother and a person. I will brag about her until the day I die," says Mongie. "She has been so selfless in letting my family love her own. She is my hero. And I love that she lets me love Tagg as his other mother. We are both confident in our roles in his life and it has been such a blessing for all of us."
Mongie says it was important for her to document on video her reasoning behind the adoption placement for her son to see one day, even if it was hard to film."I wanted Tagg to see and hear how real and raw the experience actually was. I wanted him to know that I loved him more than everything in this world and that his father loved him as well. And that I loved and trusted his new family to love him and take care of him like he deserved. "
She never intended the video for her son to go viral. "The only reason my video ended up on YouTube is because my iCloud would no longer let me keep it on my phone," she jokes. She says she's been blown away by the response, and hopes all the attention will make more people consider open adoptions. "I hope I can use this experience to help spread the word about open adoption and that we can normalize it, because it is so healthy not just for the child, but everyone else that's involved as well," she says.
Although Kaden's death was an untimely tragedy, Mongie points out that all birth mothers deserve to be supported in their decision, regardless of the circumstances. "I hope people understand that even though Kaden died, my video is nothing different than what almost every birth mother goes through," she explains. "I have seen so many relate in this exact way. My story is no different than any birth mother's. Each birth mother deserves a hug and all of the happiness in the world. "