'Impeachment' Produced By Monica Lewinsky Will Be Next 'American Crime Story'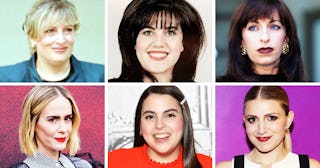 (L-R) Karin Cooper/ AFP/ Kim Kulish/CHRIS DELMAS/ Mike Coppola/ Bruce Glikas/Getty
Monica Lewinsky is taking back ownership of this narrative and we are here for it
Monica Lewinsky became infamous when she was just 22 years old and news broke of her sexual relationship with then-president Bill Clinton. While the president faced impeachment proceedings, he was eventually acquitted and finished his term, escaping the scandal with his reputation relatively intact. Lewinsky, on the other hand, became a national punchline, subject to lewd jokes, mocking, harassment, and brutal slut-shaming for years to come.
Now, Lewinsky is taking back control of that narrative as a producer on the next season of American Crime Story, called "Impeachment," which will delve into the whole scandal.
"People have been co-opting and telling my part in this story for decades," she said in a statement. "In fact, it wasn't until the past few years that I've been able to fully reclaim my narrative, almost 20 years later."
It didn't take 20 years for people to know that Bill Clinton was an active participant in everything that happened between him and Lewinsky. In fact, what we don't truly know is how much he used his power and influence as the President of the United States to manipulate and coerce a very young woman into a situation that would forever change her life. What we do know is that it's utter bullshit that Clinton never received the kind of bullying and public shaming that Lewinsky has been forced to endure for decades. If you haven't seen her absolutely powerful interview in the "Public Shaming" episode of Last Week Tonight, stop what you're doing and watch it now.
Lewinsky is an eloquent, intelligent woman. She had a bright future ahead of her that was massively derailed by the incredibly sexist way this scandal was viewed by both the public and the officials investigating it. It's about time she was able to tell the story from her own perspective, and we can't wait to see her take back her power with this series. Neither can the internet, apparently.
May we also point out that over the last several years, Lewinsky has truly reclaimed her own story with more grace and humor than any one person should have. Like, she's honestly hilarious.
While most of the cast hasn't been announced, we know Monica will be played by Beanie Feldstein, which feels like the most perfect casting of all time. ACS alum Sarah Paulson will play Linda Trip, Lewinsky's confidant who secretly recorded the phone calls that kicked off the investigation into the affair. The Clintons have yet to be cast, as does Ken Starr, the special counsel who led the investigation.
The Impeachment season of ACS is set to premiere on FX on Sunday, September 27, 2020. It's more than a year away, but I'm already setting my DVR. In the meantime, get ready for how incredible this is going to be by watching this.
What I would give for an ounce of this woman's courage and strength. We can't wait for her to tell her story to the world.
This article was originally published on