6 Ways To Make YouTube (And YouTube Kids) Safer For Your Children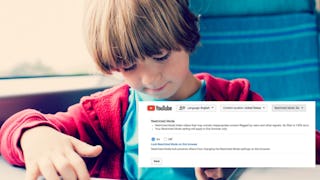 Luca Sage / Getty Images (main photo) / YouTube (inset)
There's a very good chance that while you're reading this (or while you're scrolling through your social media accounts and newsfeeds today), that one of your kids is somewhere in the house with their face glued to a random and nonsensical video on Youtube. Or maybe your younger ones are contentedly propped up in front of their iPads, scrolling through the YouTube Kids app, and watching what you're positive are very safe and age-appropriate animated shows and educational content.
And of course, all of it is safe, totally filtered, and free from pornographic, violent, or profane content because it's YouTube, and YouTube Kids, and they restrict all that, right?
Not exactly.
As a matter of fact, in recent months, a surge of parental complaints about YouTube Kids have been filed with Google, the parent company of both YouTube and YouTube Kids. Seems the YouTube Kids app, which draws more than 11 million weekly users and viewers, was having a difficult time filtering its own content, and certain "things" began slipping through the cracks.
Take, for instance, a recent clip of the show Peppa the Pig which appeared on YouTube Kids. It looked like the real Peppa, it sounded like the real Peppa, but let's just say it was not the real Peppa — not even close. This Peppa and George were drinking straight-up bleach in one clip, and in another, they were acting out a shootout complete with a gun-toting pig.
Parents are now asking how these clips were able to make their way through restrictive filters, to which YouTube's head of family and learning content Mike Ducard replied that the inappropriate videos were "the extreme needle in the haystack," but that "making the app family-friendly is of the utmost importance to us." In other words, blame an algorithm (not a human parent reviewing cartoons) which succumbed to hacking and inadvertently allowed a slew of inappropriate animated videos to get through the filter.
Algorithms notwithstanding, the company is cracking down on offensive content. YouTube recently told TechCrunch it banned one of the more controversial — and popular (with 8.5 millions subscribers) — kid channels, Toy Freaks, due to "vile and seemingly exploitive videos featuring a dad and his daughters, which many said bordered on abuse." YouTube also said the ban was part stricter enforcement of its child endangerment policies, and that it will remove videos when it receives are signals that cause concern.
Josh Golin, executive director of the Campaign for a Commercial-Free Childhood, stated, "Algorithms are not a substitute for human intervention, and when it comes to creating a safe environment for children, you need humans."
We concur, but what do we do now? Well, here are a few tips to help make your kids' viewing of YouTube and YouTube Kids content a little safer and a little less bleach-y.
1. Turn off the search feature; turn on restricted mode.
On the YouTube Kids app, you have the option to turn off the ability to search for videos. By disabling this function, fewer videos will be served to your child through Google's algorithm. On regular YouTube, ensure your kids are using it in "restrictive mode" to weed out illicit and questionable content.
2. Report and block.
If you do happen to come across something that you think should have been filtered, or definitely does not belong, don't just quickly click out of it. Take a few seconds to report it and block it. This helps all of us out, including the software developers who author the filtering algorithms. Even the smartest computer programs miss things and are no substitution to a mom's eyes. But by reporting things and being involved in the curating of safe content, the site becomes safer for everyone.
3. Install a Chrome browser app as an ad blocker.
YouTube runs an incessant amount of ads and banners. They appear all over the screen, even while you're watching something entirely different. Download an ad blocker app specifically for YouTube from the Chrome Web Store.
4. Set up a family Google account to view YouTube.
This is as easy as creating a new Google account for the whole family, creating a YouTube channel with that account, then using it while viewing YouTube. This way you will have a complete history of everything being uploaded, downloaded, and viewed. Also, it will be the email address the YouTube channels that family members subscribe to will be using for contact and solicitation. Translation: You will be able to see all the channels that solicit your kids, and what your kids are watching and subscribing to.
5. Draw up a personal video playlist.
In the same way you would curate a song playlist on a streaming music site, you're also able to do on YouTube. It's as simple as selecting a collection of videos your children are allowed to view and saving them to a video list. This way they're only able to watch what you have pre-selected.
6. Ditch the YouTube app entirely.
If you find your kids are spending time watching Nick Jr., Disney, or other network-specific shows on YouTube or YouTube Kids, go ahead and just download those specific network apps and have them use those instead of the YouTube Kids app. You will see only that content because those network apps do not allow third-party uploading.
Finally, WATCH, WATCH, WATCH YouTube with your kids. You don't have to be sitting there the entire time holding their hand, but every once in a while pop in on them unexpectedly and ask quickly, "What are you watching, and can I see?" Their reaction will probably be able to tell you everything you need to know.
This article was originally published on