Here's The Updated Classic Game Every Millennial Needs In Their Life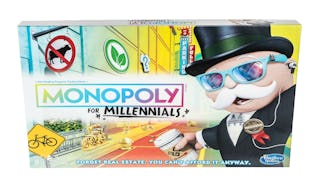 Walmart.com
Put down the skinny soy latte and cancel your marathon Netflix binging/Tinder swiping session: it's time to bond with your friends and family in a different way. You know, through that archaic institution called a "board game." More specifically, Monopoly – the board game that has been bringing families together (and then tearing them apart, at least temporarily … thanks, sore losers) – since 1935.
It may bear a resemblance to traditional Monopoly, but that's where the similarity ends, because this one is geared toward Generation Y. That's right: it's called Monopoly for Millennials, and it's designed to appeal to a new crowd. Of course, a sense of humor is required, because it plays into every millennial stereotype. But if you can take the silliness in stride and laugh at yourself (quietly, without waking your parents upstairs, you basement-dweller), this is the game for you.
In this version you don't buy properties, because everybody knows millennials are too burdened by student loan debt to afford all that. No, seriously, you begin the game with student loan debt. But no matter, because this version is all about experience – you move around the board, scouting out new places to eat (OMG THIS BISTRO HAS THE BEST AVOCADO TOAST), shop, party, and hang out.
And, of course, you're out to find those places first and set the trends … because instead of rent, players pay the first person to "discover" each location. It's not the money that matters, though, because in the end, it's the player with the most experience points who comes out on top.
There are even iconic new game tokens, including emojis, a camera, a hashtag, and a bike. Because let's face it: that car probably wasn't even electric, and nobody even knows what a thimble is any more.
Best of all? The game is available at Walmart and priced at $19.82 a clever nod to the year that began the Millennial generation, according to the U.S. Census Bureau.
Monopoly for Millennials is a tongue-in-cheek look at all things Millennial, real or perceived, and a fun update to a classic game. As the website puts it, this game is "A great choice for Millennials who need a break from the life of adulting."
Just make sure you take a selfie with your fellow players and upload it to Instagram (with the appropriate hashtag, natch) before the game ends. Because if you don't do that, does it really even count?
We are a participant in the Walmart.com Affiliate Program and may earn fees by linking to Walmart.com and affiliated sites.
This article was originally published on