Parents Of Tweens And Teens, Rejoice: Fortnite Monopoly Has Arrived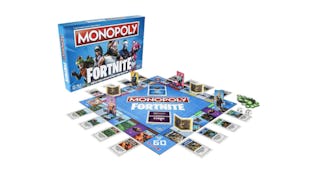 Image via Amazon
Christmas gift — check
Parents of teens and tweens are intimately familiar with Fortnite — and if not, just wait for its arrival. Trust us, it's coming. Now, kids can take their obsession with the crazy game to a more wholesome and family-friendly place; there's a new Monopoly on the street and it's all Fortnite, baby.
Monopoly: Fortnite Edition, being sold on Amazon and in other retail stores including Target, will make the perfect Christmas gift for hard-to-buy-for tweens and teens. Bonus? It will also provide at least one way to actually engage with kids who can barely tear themselves away from the addictive video game.
Similar to the online version, two to seven players choose from 27 different outfits (or "skins" as your kid tells you, stupid V bucks) and battle to "pick up health packs, build walls, and damage their opponents." Players will be exchanging money for hit-points (HP) and the last one standing is the winner. Epic Games teamed up with the mother of all game-makers, Hasbro, to create the newest Fortnite craze and it's bound to be a winner.
It sounds pretty similar to the original Monopoly game, but instead of snagging Boardwalk or putting a shitload of houses on Vermont Avenue to hopefully make bank, players use "loot chest items and the action die to battle opponents." So, basically instead of trying to bankrupt each other, the object is to try to kill each other instead. Sounds like the perfect "life imitating art" sort of family game I could get into.
This new version also doesn't have actual property names, rather locations from the "Battle Royale" map. For instance, there will be properties like "Tilted Towers," a common battle ground. I have no idea what that means, by the way.
The Fortnite edition's being sold for $20 and is intended for kids ages 13 and up, which is good since there will likely be a lot of swearing that happens (or so I hear when my teenage son thinks I'm not listening). No word if there are dance cards since that seems to be a lot of the appeal of the online version, but it sure would be fun to embarrass the kids with a lame parent version of the Orange Justice.
Whether we like it or not, Fortnite seems like it's going to stick around for awhile, so at least this is something parents can do with the kids and pray there will be significantly less screaming in the board game variety.
We are a participant in the Amazon Services LLC Associates Program and may earn fees by linking to Amazon.com and affiliated sites.
This article was originally published on