Monopoly Sets Up Holiday Hotline To Help Avoid Family Feuds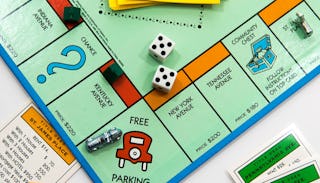 Image via Shutterstock
Let the Monopoly rules hotline keep your family from imploding this weekend
It's the holidays and with the alcohol flowing and the board games coming out, fights are bound to occur. That holds especially true if your family whips out the eternally controversial and stressful game of Monopoly. That's why the makers of the game are opening a holiday hotline to help settle disputes over the rules of the complicated board game.
Because no one needs a stompy blow-out over who owns Park Place.
According to The Sun UK, a survey of 2,000 adults found that 51% of Monopoly matches end in a fight. Recalling evenings spent playing it with my own family, I'd wager that number is closer to 100% for some of us. And the top reason this game brings out a particular brand of ire is the rules — namely, people making them up as they go along. The second biggest cause of Monopoly battles is the smug gloating of those who are doing well, bringing out the rage-y side for those who aren't exactly flush with pretend real estate holdings and rainbow-colored cash.
To that end, Hasbro will have the hotline open starting Christmas Eve and wrapping up on December 26th. They said they expect to receive a "flood" of calls around 6 pm on Christmas Day, which is apparently high Monopoly-playing time for many families. Callers will receive an "unbiased, trained expert" who will be able to settle any disputes about the game's rules.
Craig Wilkins, Marketing Director of Hasbro UK & Ireland, says, "Monopoly is one of the best-loved board games of all time, because it's a way for families to spend some quality time together. However, our research found that Monopoly games can regularly end in chaos, with some friends and family members stopping at nothing to win."
Wilkins commissioned the research behind the survey results and in a statement provided to The Huffington Post says, "We'll have experts on hand with the official rulebooks to instantly settle any disputes, and advise on how to resolve common complaints, with each person also having the opportunity to make a donation to Childline when they call."
Hasbro is pretty much doing the Lord's work with this hotline, because boy, can Monopoly get heated. My family hasn't played it in several years, and the number of times a round ended in crying, screaming and swearing are the exact reasons why. A hotline to solve arguments is all well and good, but the emotional wounds from the losing and the gloating will still be there. But at least it will all be on an even playing field.
For anyone brave enough to still give it a shot, the UK-based hotline number is 0800 689 4903. Happy playing and good luck!