Man Slams 13-Year-Old To Ground And Fractures His Skull For Not Removing Hat For National Anthem
by Sarah Bregel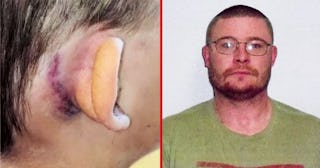 KPAX-TV/Youtube
A boy sustained serious injuries after a man slammed his head into the ground for not removing his hat during the National Anthem
A Montana man allegedly brutally assaulted a young boy at the Mineral County Fairgrounds on Saturday evening by picking him up and slamming his head into the ground. The boy, a 13-year-old named Wally, had only just been dropped off at the event by his mother, Megan Keeler, when Curt Brockway, 39, violently lashed out at him inside the rodeo arena.
The reason? Brockway told witnesses it was because the boy didn't remove his hat during the national anthem. He was reportedly trying to justify his actions because he felt the child was being "disrespectful" by not taking it off during the anthem. It's a narrative we've heard a lot of in recent years, but in this case, the outcome was truly horrific.
Brockway also said there was an exchange between him and the boy before the assault took place. He told a sheriff's deputy that he asked the boy to remove his hat and that the boy cursed at him in response. Witnesses did not corroborate that part of the story and said the attack seemed random.
One witness, Taylor Hennick, told The Missoulian that the national anthem had just begun when she saw the boy on the ground. "He was bleeding out of his ears, seizing on the ground, just not coherent," Hennick said. The witness also said that just after the attack, Brockway was saying "he had every right to do that" because of the boy not removing his hat.
Bleeding from his ears and seizing? Over a song?
It was a truly terrible scene and the boy's injuries were substantial. He had to be flown to Sacred Heart Children's Hospital in Spokane and suffered temporal skull fractures. His mother told reporters he was bleeding from his ears for six hours after the event.
Luckily, Wally is now at home with his family and is continuing to heal.
Brockway was arrested after the event took place and made his initial court appearance on Monday. The state requested his bond be set to $100,000, however the judge ruled Brockway could be released on his own recognizance. Considering how horrific the crime was, it's shocking and infuriating that he's currently free. Especially because this isn't Brockway's first violent run-in with the law.
Back in 2010, he pleaded guilty to an assault with a weapon charge. MTN News obtained court documents from the incident where he pulled up to a parked vehicle, got out and pulled a gun on a family, stating he was going to kill them. Brockway was already serving a 10-year-probation sentence for that event.
The boy doesn't remember much of what happened. "It's just a lot of pain in my head. I don't remember anything – the rodeo – the helicopter – nothing," the minor told MTN News.
Still, it was a traumatic event. His mother is, of course, shaken and not exactly happy that her son's attacker is walking the streets. She wants Brockway in jail where he can't hurt anyone else. "I want to know Curt is put away and I would like compensation for the damages and bills," she said.
That sounds more than reasonable. Brockway's arraignment has been scheduled for Aug. 14 at 10 a.m. Let's hope this vicious attack will be his last and that this time, he stays in jail.
This article was originally published on