A Monthly Subscription Box Brings Fun And Games To Kids With ASD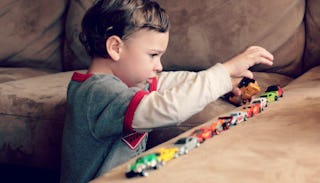 UrsaHoogle / iStock
If you are a fan of subscription boxes, you've probably noticed there is a service for almost everything — makeup, wine, clothes, games — and now toys and educational activities for children on the autism spectrum. Launched by Spectrum Toy Store, a toy store in Illinois designed for children with developmental disabilities, C.A.R.E Box is a monthly subscription service for children on the autism spectrum, ages 13 and under.
Each box contains a combination of sensory toys, products, and educational activities, customized for your child's level of development. "If a parent is concerned about their child's math skills we may include a board game like Chutes and Ladders that involves counting, number recognition and addition. In that box we may also include an addition and subtraction reusable placemat, fun math flash cards, etc.," Jamilah Rahim, the owner of Spectrum Toy Store, explained. "We would also include a variety of suggested ways to make the game more exciting so that the child doesn't lose interest."
Rahim, a behavioral therapist, understands the unique challenges parents face when buying toys and gifts for their children. "One of the biggest concerns parents have when buying their children toys is 'How long are they going to play with this before they are no longer interested and I have to go buy something else?'" Rahim told The Mighty. "We want to expose the population we serve with a variety of toys to learn from and activities that not only support the use of that particular toy but activities that take learning a step further than it's intended use."
C.A.R.E Box is not the only subscription service for children with sensory-sensitivities. Sensory Theraplay is another subscription service, created by a pediatric occupational therapist, that features sensory-friendly toys designed to help develop sensory motor skills. Sensory Theraplay boxes are meant for children between the ages of 4 and 8 and include toys meant for therapeutic play such as putty, textured tactile toys, fidgets, light-up toys, and craft activities.
Those interested in receiving C.A.R.E Boxes can sign-up for $25.95 per month subscription. A portion of proceeds from each subscription will help provide scholarships for out-of-school programming at Spectrum Toy Store.