'Don't Let Hate Infect Your Heart': Baton Rouge Cop Pens Heartbreaking Message Days Before His Death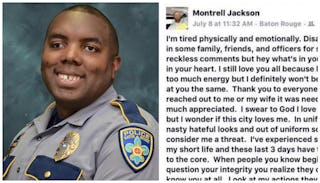 Image via Facebook
This cop's plea for peace is going viral days after his death
Over the weekend, three Baton Rouge police officers were killed in another tragic and senseless shooting. Now, a heartbreaking Facebook post written by one of them, begging people not to let "hate infect your heart," is going viral.
Officer Montrell Jackson is a 32-year-old father of one who lost his life on Sunday. Just 10 days earlier — after two unarmed Black men were shot by police and five police officers were gunned down in Dallas — the new dad wrote on Facebook that he's "tired physically and emotionally" of all the violence and divisiveness. He also said he's "disappointed in some family, friends, and officers for some reckless comments" they've made on social media. But, he said, he still loves everyone because "hate takes too much energy."
"I swear to God I love this city," he continued, "but I wonder if this city loves me. In uniform I get nasty, hateful looks, but out of uniform some consider me a threat… When people you know begin to question your integrity, you realize they don't really know you at all. Look at my actions, they speak LOUD and CLEAR."
Jackson wrote that, more than anything, he just wanted people to come together and figure out a way to bridge the gap between their beliefs and their differences. "These are trying times," he admitted. "Please don't let hate infect your heart. This city MUST and WILL get better. I'm working in these streets, so any protestors, officers, friends, family, or whoever, if you see me and need a hug or want to say a prayer, I got you."
The moving post is no longer available on Jackson's Facebook page, but a screenshot of his words is being shared widely on social media. A tweet of the image from journalist Hannah Parkinson, who says she verified the post's authenticity, has been retweeted over 2,000 times — and she's just one of several sharing it.
The post's message of community and togetherness is speaking to people from all walks of life amid such trying, scary, and violent times. It's also serving as a tribute to the brave, kind, and hardworking man who wrote it. Montrell Jackson was a 10-year veteran on the Baton Rouge police force and a brand new dad to his four-month-old son, Mason. His half-brother, Kedrick Pitts, told the Associated Press, "With him it was God, family and the police force. He went above and beyond … He was a protector."
Jackson is one of far too many good people who've been taken from us in the past few weeks by senseless violence. The world is a scary place right now, and it seems we're all struggling to come up with a solution, but as Jackson's post makes clear, anger, fear, and judgment are never the answers, and all of this hatred has to stop.
This article was originally published on