12 More Disney Finds You're Gonna Flip Over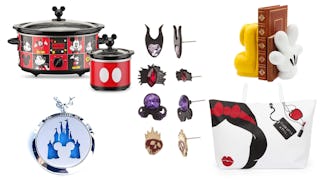 Amazon.com & Walmart.com
We see you over there being all mopey about your lack of Disney stuff – or maybe you're sitting on a pile of it and it still isn't enough, because Disney. We've got it pretty bad for the Mouse, too, and we've been non-stop watching all our faves on Disney+ since it launched (our childhood on one platform, for $6.99/month? Of course we signed up). So we see you, adult Disney lovers, because we are you. We are one.
It's hard to resist adorable products that remind us of the happiest place on earth. But never fear, we've rounded up 12 more fantastic finds to satisfy your hunger for all things Disney.
This chic stemless wineglass combines our three favorite things: Disney, wine, and being done with adulting. Must. Own.
This adorable Lilo and Stitch pillow case is a great way to dress up an old throw pillow as well as a sweet reminder about the importance of family.
Are they freaking kidding me with these too-cute-for words Snow White TOMS? I mean, we kind of want to shake Snow White and tell her she doesn't really need a prince, but also WE CAN'T HELP LOVING THESE SHOES.
These deliciously villainous earrings are for those of us who love Disney, but not because of the princesses.
And these cute Mickey notebooks come with a pen too. The perfect gift for the Disney fanatic in your life, or for you.
Well, if you absolutely must do adult-type stuff, you might as well do it with this Mickey slow cooker and accompanying dipper. Can we talk about the precious Mickey-shaped lid handles?
Enjoy the scent of your favorite essential oil without the oil touching your skin, and also this pendant is just pretty AF.
Oh, come on. This Minnie spoon rest literally could not get any cuter. It has ears and a bow and Minnie's adorable trademark loopy signature with hearts dotting the I's.
You know things just got real if you catch yourself hauling around a Dooney & Bourke Minnie tote. #ThosePolkaDotsTho #Minnie4Lyfe
If the D&B Minnie tote is a little rich for your taste (or budget), this iconic Snow White handbag is pretty damn glorious too.
I need these classic Mickey Mouse bookends for my bookshelf. Pure Disney perfection.
You're a grown-up and sometimes you like to cook stuff, so you need measuring spoons. But not that grown-up, hence these Mickey Mouse measuring spoons.
You almost never get to drink a hot cup of coffee. Well, with this Mickey mug warmer (mug included), you can, and you can do it with the Mouse himself.
And there you have it, 12 more of our favorite finds to satisfy your hankering for an extra dose of Disney. Have a magical day!
We may earn fees from purchases made via links on this page and affiliated sites. All opinions are our own.
This article was originally published on