Morgan Miller Shares Devastating Photo Of Daughter's Final Moments After Drowning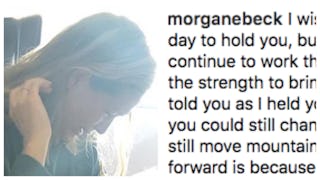 Image via Instagram/Morgan Miller
Morgan Miller tragically lost her 19-month-old daughter in a drowning accident earlier this summer
Earlier this summer, the 19-month-old daughter of pro volleyball player Morgan Miller and her husband, Olympic skier Bode Miller, drowned in a neighbor's pool. Morgan recently shared a devastating photo of her cradling her daughter during her final moments in hopes it raises awareness about childhood drowning.
"I wish I could have one more day to hold you, but until that day comes, continue to work through me and give me the strength to bring awareness, my love," she wrote in the caption. "I told you as I held you in this moment that you could still change the world, you could still move mountains."
The Millers recently gave an interview to the TODAY show, sharing their grief with the world and letting parents everywhere know how quickly children can drown. "There's not a day that goes by that I don't pray for the opportunity to go back to that day and make it different. But now we have this opportunity to make other parents' days different," Miller says.
While Miller and daughter, Emmy, were visiting neighbors, the young toddler wandered off for just a moment. Miller says the second she noticed Emmy wasn't in her line of sight, she rushed outside — where she saw the little girl floating in the pool. She immediately jumped in and quickly began performing CPR while her neighbor called 911. Unfortunately, it was too late for their sweet child.
Since the tragedy, the Millers say they've learned that drowning is the leading cause of unintentional death for children ages one to four years old — after motor vehicle crashes. What makes this statistic even more heartwrenching is that the CDC reports that most young drowning victims are rarely able to call for help or wave their arms to let adults near them know they're in trouble.
All parents can do, the CDC says, is closely supervise children around water. That being said, there's no place in this story or any story like it for mom shaming. If you've ever had a toddler, you know they can get into any amount of trouble in the blink of an eye. My own daughter is almost three, and even when I'm standing directly with her in the pool, she tests boundaries and tries to go underwater every 2.5 seconds. She thinks she can do everything adults do in the pool, and it terrifies me to think of how quickly tragic accidents like this can occur. To any of us.
"Guilt is a very painful thing," Miller says. "And even though it's awful and living with it is terrible, and I hope and pray and beg that it gets easier, I am now much more aware in that area to make sure it doesn't ever happen again."