Eight Women Accuse Morgan Freeman Of Harassment And Misconduct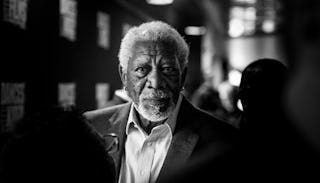 Image via Greg Doherty/Getty Images
Morgan Freeman has been accused of harassment and misconduct by eight women
Another day, another slew of awful allegations in Hollywood. Morgan Freeman has been accused of sexual harassment by women both inside and outside the industry, and their stories are — once again — truly repulsive.
Eight women opened up to CNN about the harassment and misconduct that Freeman allegedly inflicted on them, which ranged from touching to inappropriate comments. Another eight sources said that they witnessed his harassment firsthand — sometimes, in public.
The investigation started when CNN entertainment reporter Chloe Melas had a really uncomfortable encounter with the actor during a press junket for Going in Style. Freeman reportedly shook Melas' hand, wouldn't let go, and kept looking up and down her pregnant belly saying, "I wish I was there." He also allegedly said, "You are ripe." Cue collectively gagging heard across the internet.
Melas decided to dig around for other inappropriate stories about Freeman, and it turned out that there were plenty of them.
One production assistant told Melas that Freeman rubbed her lower back and made comments about her body during the filming of Going In Style. One time, he reportedly even went so far as to try to lift her skirt and ask her if she was wearing any underwear. She added: "[Co-star] Alan Arkin made a comment telling him to stop. Morgan got freaked out and didn't know what to say."
A production member of Freeman's 2012 film Now You See Me also noted that Freeman acted completely inappropriately on set. "He did comment on our bodies… We knew that if he was coming by … not to wear any top that would show our breasts, not to wear anything that would show our bottoms, meaning not wearing clothes that [were] fitted," she said.
Things were reportedly just as bad inside Freeman's production company Revelations. One former employee said that the actor would stop by her desk just to ogle her breasts.
"If I ever passed him he would stare at me in an awkward way, would look me up and down sometimes stopping and just staring," she noted. "One time he stopped, looked me up and down as I walked into a room of people, and everyone burst out laughing. And I literally froze feeling very uncomfortable and one of the people in the office said, 'Don't worry, that's just Morgan.'"
Yet another source said that they saw Freeman walk over to an intern and massage her shoulders. A former male employee added that he behaved like a "creepy uncle."
So, what's Freeman's response to all these awful allegations? Well, he released a statement that read: "Anyone who knows me or has worked with me knows I am not someone who would intentionally offend or knowingly make anyone feel uneasy. I apologize to anyone who felt uncomfortable or disrespected — that was never my intent."
Oh, it's so, so reassuring that he didn't "intentionally" harass any of these women. File this away with the rest of the useless apologies we've gotten recently.
This article was originally published on