Morgan Spurlock Posts Twitter Confession Of Sexual Misconduct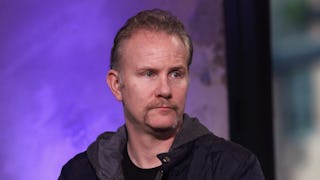 Image via Jim Spellman/WireImage
He confesses a long history of sexual misdeeds in an open letter
You may remember filmmaker Morgan Spurlock from the 2004 award-winning documentary Super Size Me, where he showed the dangers of gorging on nothing but McDonald's food for 30 days. Now you'll remember him as another man being outed by the #MeToo movement.
Spurlock shared said letter on his personal Twitter account, detailing and confessing to multiple occasions of sexual misconduct on his part.
"As I sit around watching hero after hero, man after man, fall at the realization of their past indiscretions, I don't sit by and wonder 'who will be next?' I wonder, 'when will they come for me?'" he writes. "You see, I've come to understand after months of these revelations, that I am not some innocent bystander, I am also a part of the problem."
Right off the bat, it sounds like perhaps he's trying to get in front of a story. He begins by describing an incident with a girl in college, whom he says he "hooked up with on a one night stand." The girl believed Spurlock raped her.
"This wasn't how I remembered it at all," he writes. "In my mind, we'd been drinking all night and went back to my room. We began fooling around, she pushed me off, then we laid in the bed and talked and laughed some more, and then began fooling around again. We took off our clothes. She said she didn't want to have sex, so we laid together, and talked, and kissed, and laughed, and then we started having sex."
He recalls the girl getting upset, and started crying. "We stopped having sex and I rolled beside her. I tried to comfort her. To make her feel better. I thought I was doing ok, I believed she was feeling better. She believed she was raped."
Hey, here's an idea for all men everywhere: when someone you're "hooking up with" says they don't want to have sex, YOU DON'T KEEP TRYING TO HAVE SEX WITH THEM. Continuing to do so blurs the line of consent big time, and paves the way to sexual coercion and assault.
He also writes about how he sexually harassed a female employee of his years later, to the point where she had to quit her job, something he says he thought was "funny at the time." He says he paid her a settlement in the end. "I paid for peace of mind. I paid for her silence and cooperation. Most of all, I paid so I could remain who I was. I am part of the problem."
He then dives into his long history of infidelity. While constantly cheating on wives and girlfriends is a monstrously shitty thing to do — it isn't the same thing as sexual abuse. He also writes he was abused as a child, had an absentee father, and has suffered from depression.
While reading this, all I kept hearing was "I, I, I" from Spurlock while his victims were more of an afterthought. They're just supporting characters in his Narrative Of Zero Self-Awareness. There are plenty of people out there who have suffered from childhood abuse and neglect, absentee parents, and struggled with their mental health — myself included in that trifecta — who never went on to harm other people the way Spurlock did.
Twitter was abuzz in conflicting opinions on Spurlock's open letter:
https://twitter.com/jetpack/status/941146339324432385https://twitter.com/jetpack/status/941183599071473664https://twitter.com/jetpack/status/941103512628363264
Spurlock himself followed up his letter with a few tweets saying he hopes to do better, and that he's "seeking help."
Regardless of whether his letter is disingenuous, here's hoping if nothing else, Spurlock learns something from his unacceptable behavior. Or makes a "super size" donation to organizations like RAINN.
This article was originally published on