Moschino's New Pill-Themed Fashion Collection Offends, Trivializes Illness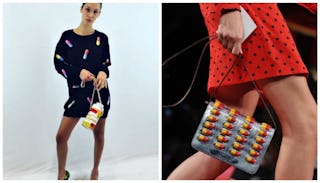 itsjeremyscott / Instagram
Jeremy Scott took over at Italian fashion house Moschino three years ago, and since then he's been known for his see-now-buy-now capsule collections: collections that feature only a few basic, iconic pieces. It's a distillation of the designer's vision, often limited edition, and according to Business of Fashion, "transcends seasons and trends by being functional — read commercial." While Scott likes to keep the fashion world guessing, he sent out the show's invitations in pill bottles, with written "prescriptions."
This latest collection has mixed a Valley of the Dolls theme (in the novel, "dolls" refers to pills) with seemingly realistic pills: models dressed as paper dolls, bags, and iPhone cases resembling…realistic pill bottles. Photo-realistic pill cases. T-shirts plastered with warning labels for prescription drugs. Umbrellas and shirts and backpacks adorned with candy-colored pills. On T-shirts and backpacks, the Moschino logo is backed by a pile of pills spilling past the letters' edges. Some come with yellow and red warning labels. Others specify a 25 mg dose. The see-now-buy-now portion is readily available. However, one retailer, Nordstrom, has announced they are pulling the collection from their stores on the heels of "negative feedback from customers."
People are pissed. And I'm one of them.
To keep me stable, I take five different psychiatric medications every day. I also need two kinds of thyroid pills, and one pill to stop the before-sleep twitching from another pill. I require this entire pharmacopoeia to stay sane, and the loss of any one of the pills can cause symptoms ranging from lethargy to misery to suicidal ideation. These pills are not fun. I have a years-long backlog of failed psychiatric meds in my bathroom cabinet. It wasn't fun figuring out what worked for me. The red pill made me pass out. The blue pills caused suicidal thoughts while in withdrawal. The white pills turned me into a bitch, and the yellow pills finally just stopped working.
This is not whimsical, this is not a joke, this is not funny, and this is not some cool rebellion. This is my life, which can be hell at times. Having pills around insinuates there's something wrong with you. It's no fun to need pills. Needing pills is not edgy, or show-offy, or cutesy fodder for some Italian designer's fashion line. Needing pills is a serious medical issue — or should be. Blister packs aren't cool. They're banal but lifesaving. So are prescription drug bottles.
Moschino's pill-themed collection, playing on the term "capsule collection," is offensive to those of us who need pills to live.
I can hear the sneers for me to lighten up. It's just a design, they say. It's just a T-shirt. Why should you care if an Italian designer decides to pepper his clothing with pills?
Because this collection just serves to "other" those of us who depend on medication even more: We're the fringe. We're the rebellious, set in opposition to the normal schmoes who don't need no stinkin' drugs. It just stigmatizes those of us who require medical/professional help for our mental health, and those of us who depend on prescription drugs to keep us safe and well.
This collection is tasteless for another reason too. America is deep in the midst of an opioid addiction problem. According to the American Society of Addiction Medicine, in 2014, 1.9 million Americans had an addiction to prescription pain relievers — 18,893 of them died. Fueled by opioid addiction, "[d]rug overdose is the leading cause of accidental death in the U.S.," the Society reports. Moschino's allusions to Valley of the Dolls implies the explicitly illegal consumption of prescription drugs. And the explicitly illegal drugs abused in America are pharmaceuticals like oxycodone, hydrocodone, codeine, morphine, and fentanyl. All pretty little pills. All pretty deadly. All killing Americans every single day.
And god forbid a recovering addict sees this collection, especially an addict in the phase when anything can be a trigger.
The designer told Yahoo Style, I always say, "I always say, fashion is the only drug I do." Well, lucky you, Jeremy Scott. Lucky you, you don't need meds to function every day. If you did, maybe you'd show some more taste with your latest collection. Maybe you wouldn't risk trivializing addiction or triggering those in recovery. Lucking fucking you, indeed.
This article was originally published on