Mother-Daughter Time Helped Me Reconnect With My Teen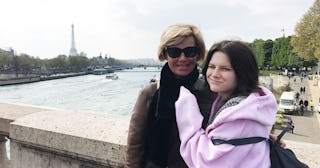 Courtesy of Elizabeth Dardes
On the shores of the Mediterranean, I tossed my shoes and got as close to the sea as I could for a good photo. When the waves crashed, I couldn't move. My feet were stuck in the muck of the wet sand and the sea pushed me back on my bum. I had a wet dress and dripping backside. It was a small marina in Barcelona where my teen daughter and I were strolling the shore headed to dinner while taking a break from the group of her eighth grade school trip. She was trying to help me up and we were both laughing. I would just have to eat in a damp dress. This is just one of the memories the two of us have of that trip. Despite the awkward teen years and the changes they bring, connecting with your teen can be accomplished and enjoyed.
Teenagers can be a real pill, or at least require you to need one. They can be loving and fun Friday night then surly, mean, and incorrigible Saturday morning. This transition from child to adult, as miraculous and metamorphic as it is, requires love and guidance, and an incredible amount of patience.
From the research I've read and other parenting stories, my 15-year-old daughter is a typical teen. She has a circle of friends, good grades, school activities, and even listens to me at times. She is dramatic, emotional, and will sequester herself in her room all night listening to music and Snapchatting with her friends. To keep communication open between us, I'll ask her to join me for "girl time," whether shopping, visiting friends, walking the dog, or a slip into Starbucks. One such outing, however, led her sharing news from school and friends more candidly with me, even revealing a few things I'm not sure I wanted to know. It was during a one-night mother-daughter trip that I learned more about her insecurities and some real worries that she had been carrying around. Because there were no distractions from the day-to-day tasks, she was open and receptive to sharing.
I told her a few things that had happened to me when I was her age. She could relate to the friend I thought I could trust, the group of mean girls from my high school, and the jealous girl who tried to sabotage a tryout I had. I told her that I was always available for her and that she could tell me anything. The mini-trip really brought us closer together.
According to Harvard Medical School, a mother-daughter trip taken once a year can help relieve stress, improve immune responses, and decrease the chances of heart disease for mother and daughter. Spending time together outside of your routine day can make it easier to laugh, talk, and engage. Just as important as change in general, trips improve health and increase longevity. A new, exciting adventure challenges the mind to navigate the unknown, leading to healthy new brain activity. Schedule changes, transportation, new scenery, and simply the anticipation and preparation for a trip all lead to vigorous brain function and personal growth.
Our trip was to a nearby city where we stayed just one night and acted like tourists for two days. We made our own itinerary, walked for miles each day, explored, took photos, and spent every minute together, not only learning about the city, but learning about each other. We budgeted, discussed the agenda and our interests, got tired, grumpy, and annoyed sometimes, but relied on one another because we had to.
Stepping away from the daily routine of home, work, and school granted us discovery and excitement and ability to share these immediately with each other. Traveling replaces the ordinary and the predictable, and reveals character traits that may not be present at home. When something goes awry, which it usually does, mothers and daughters discover one another's resilience and resourcefulness. Traveling instills independence and encourages self-confidence, and ideally for young people, it presents the array of career choices the world has to offer. teens, when exploring and traveling, step away from social media, engage with others, learn flexibility, make decisions and observe the rand scale of experiences and opportunities available in the world. No other experience offers so much for your teen.
Tiny toes of toddlers and babies with little bald heads getting pushed in strollers and being held on shoulders are for whole family trips to Disney, camping, and the beach. Those early vacation years are for unifying and solidifying the family. When my second son was born, I regularly made ice cream or bookstore dates with my first son who was four. I would make mention of the "date" to him throughout the week so he would know how excited I was for this upcoming one-on-one time with just him. Perhaps this recent little city trip, this one-on-one was similar. The anticipation made it exciting, even if it was only an overnight trip. Whether a new state or country or a nearby city, the trip offers adventure and a refresh for what can often by trying times during the teen years. The two of us alone in an unfamiliar place made us both a bit vulnerable, and what I believe, was a comfortable setting for talking and sharing. Perhaps this idea will become a lifelong tradition for the two of us. I hope so. In the the meantime, we've got many places near and far to explore, and I've got more stories to tell, before she finally flies on her own.
This article was originally published on