Mother/Daughter's Inspiring 74-Pound Weight Loss Goes Viral
by Meredith Bland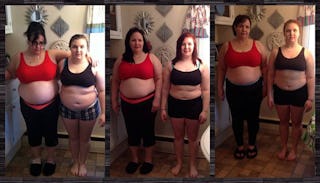 Image via Facebook
Mom and daughter inspire millions
As we head into the New Year, many of us will be making resolutions to lose weight in 2017. Losing weight — especially when you have a lot to lose — can be really difficult, and it's nice to have some kind of support. One mother and daughter paired up and recorded their weight loss journey together, and the resulting video, which was shared yesterday on George Takei's Facebook page, has now been watched over 21 million times.
On her Facebook page called Mother And Daughter Duo, where she documented her weight loss, Cheryl wrote about why she was finally ready: "I need to do loose [sic] about 100 pounds…. Get my life back and get into the best shape of my life… I am going at this hard core ..I'm done feeling gross … My life has become so limited … I work and go in my room to watch tv sit on my ass and snack till I fall asleep…I'm done…."
But Cheryl wasn't going to do it alone. Her seventeen-year-old daughter, Tessa, joined her on a 100-day fitness challenge. As Cheryl tearfully said on her original video: "I'm definitely an emotional eater, and my daughter takes right after me. I don't want her to have a lifetime of this."
These two certified ass-kickers started preparing healthy meals and worked out every day. They started doing things like pull-ups, which is ridiculous because we all know pull ups are impossible. Right? Cheryl? Tessa? Oh. They also started running together. In the video, you see one run that they did after Cheryl got home from a 12-hour shift in the ER. And it was in the snow. And we're pretty sure it was uphill both ways and they had newspapers for shoes.
Bad. Ass. Es.
One of our favorite parts of the video is when you see the two boxing each other, dukes up and gloves on, in a freaking' octagon. They got into the octagon, y'all. You can't help but smile when Cheryl takes a big ol' swing at her daughter, and then when she's distracted Tessa gives her a (gentle) knee to the stomach. These two obviously love each other and tried to have as much fun as possible on their weight loss journey.
Like anyone trying to lose weight, they did fall off the wagon here and there. Said Cheryl at one point in the video, "So my little cheat day turned into two little cheat days." We get it. But she got right back on track and, at the end of their 100 days, Cheryl had lost 42 pounds and Tess lost 32 pounds. That's 74 pounds.
Since then they have continued to lose weight and due to the overwhelming response of their video, have started offering personalized weight loss coaching. "I want to help family and individuals ..I still struggle and I always will but I know what to do…. it's a life-long process. since this blew up again it's taking a lot of our time so Tessa and I put together what we did in our 100 days and put together a personalized coaching program …. so if you don't know where to start or what to do we can help."
We have no doubt that these two will be successful in whatever they put their minds to. And the internet can't get enough of them. Said one commenter: "This is awesome. I mean the losing weight was nice, but I think the relationship they have is the best part."
We couldn't agree more.