Texas Mother Drowns Saving Her Toddler From Flood Waters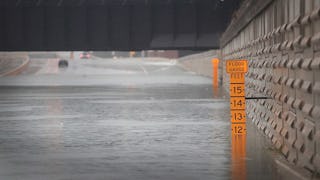 Image via Scott Olson/Getty Images
Her daughter was found clinging to her mom when rescuers arrived
Stories of rescue and recovery continue to come out of Texas as tropical storm Harvey, still dropping record-setting rainfall, starts to make its way towards Louisiana. We see pictures on the news of entire neighborhoods being evacuated by boat, cars completely submerged in flood waters, and rescuers risking their own lives to save strangers from certain death.
One of the most heartbreaking stories is of a mother who risked her life to save her small child from drowning during a flood in Beaumont, Texas, on Tuesday. According to an incident report tweeted by news producer Kaitlin Anderson, the woman and her daughter were traveling south bound on a service road and got stuck in high waters. The mother proceeded to pull her car into a nearby parking lot, then exited the car with her daughter, presumably to flee the water on foot. There are conflicting reports about the child's age; some have reported 18 months, some say 3-years-old.
What happened next is any parent's worst nightmare. At some point, police said, the pair were swept up in the current and carried about half a mile from their car into a waterlogged canal. Two police officers and two fire rescue divers in an inflatable boat spotted them and pulled them in, but the mother was "unresponsive."
Officer Carol Riley, a spokeswoman for the Beaumont Police Department, told PEOPLE the unidentified 41-year-old was "found floating in a canal with her daughter clinging to her."
"They were in the water for quite some time," Riley told PEOPLE. "When the baby was found the baby was clinging to her. The mother did the best she could to keep her child up over the water. The baby also had a backpack that was helping her float on her back and she was holding on to her mom."
The mother was later pronounced dead.
Her daughter was "responsive but suffering from hypothermia," authorities said. Rescuers performed CPR until an ambulance arrived and was taken to an area hospital. She is currently in stable condition.
The exact number of Harvey-related deaths remains unclear as "catastrophic" flooding continues to hinder rescue efforts in Texas. Local officials in Texas have reported at least 30 confirmed and suspected flood-related deaths according to the New York Times. They also report some parts of Houston have seen as much as 51 inches of rain since Harvey began and the Houston police department have already rescued more than 3,500 people, not including those rescued from volunteers, neighbors and strangers coming in to help with recovery efforts.
Officer Riley said the mother "absolutely saved the child's life."
This article was originally published on