Mother In Migrant Caravan Pleads With Trump: 'Open The Doors For Us, I Beg You'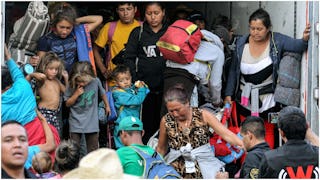 Image via ULISES RUIZ/Getty
A mother in the migrant caravan had some heartbreaking words for Donald Trump
Donald Trump is working overtime to send the message that the migrant caravan heading towards the U.S./Mexico border is part of some dangerous, maniacal scheme. So, who are the people actually in said caravan? Meet Idenia Molina Rocha, a mother who is escaping Nicaraguan with her family because of persecution.
Rocha tells CBS News that her family is being violently persecuted by the Nicaraguan government because they don't support their country's president. She said that pro-government forces shot at her 14-year-old son and set off a homemade bomb, which injured him and forced him to rely on crutches when they escaped. According to Rocha, there are wanted signs for her family posted throughout her town.
She shared a gut-wrenching message for Trump, saying that she would "get on [her] knees and beg" to be allowed into the country.
"Don't send us back," Rocha says. "We're walking and scared. You say you will militarize the border but I pray to God that with our evidence of persecution you won't send us back. I fear for my family's life. Please Mr. Trump, open the doors for us, I beg you."
Rocha is one of the many, many people who are escaping because of life-threatening reasons, including violence, persecution, and poverty. Members of the LGBTQ community have spoken out about the extraordinarily awful conditions they've been forced to endure. According to Rolling Stone, Nehemias de Leon, a gay man, says that "it would be a death sentence" to return to Guatemala.
They only stand a very, very small chance of actually being allowed into the United States. CBS reported that more than 75 percent of asylum cases from Central America were denied between 2012 to 2017. Michael Bars, a spokesman for U.S. Citizenship and Immigration Services, claimed in a statement that not all asylum seekers have credible reasons for fleeing their country.
"While there are a variety of push and pull factors that influence the decision to leave their home countries and travel to the United States, many petitioners understand how to exploit our system, enter the U.S., avoid removal, and remain in the country," he says, per NBC News.
On top of all the anxiety around being accepted, the migrants are also facing cruel harassment from locals. Santiago Alvarez, a police officer in Playas de Tijuana, tells The Washington Post that locals have been coming by a rental house where some of the migrants are staying and "knocking on the door, shouting things, telling them to leave."
"A few of the migrants left to go buy a couple of things, and they were harassed and insulted in the street," he says. "This president, Trump, this wall — it is all so ridiculous. We've had migration for years, and these people just want to get to the U.S. They just want something better."